Celebration made simple
By MAS Team | 10 February 2020
Amey Rane, Executive Chef at Forage in Wellington, says cooking a big Christmas or celebration meal is all about "keeping it simple but tasty".
Prepare, shop seasonal and don't panic are Amey's three main pieces of advice. 
"First, come up with your budget and make an efficient shopping list, remembering to accurately multiply recipes depending on your group size. Keep things economical by hitting local markets too – it doesn't have to cost a fortune. 
"It's important to source local and seasonal ingredients," he continues. "They're cheaper and delicious, and we're lucky on this side of the world as summer is the best time for getting a variety of produce."
Amey says preparation has the power to make D-day totally stress free. "Write out a rough schedule for how you're going to cook everything on the day. Not everyone has a commercial grade kitchen to work with like us, so plan what needs to go where and when.
"Also, too often I see people hovering around the oven, but it's so important your food is left alone. Don't panic and keep opening the over door, it will let heat out and moisture in."
Amey shares a few recipe ideas for Christmas dinner that are easy to prepare for bigger groups and will cater for the meat lovers, vegetarians and vegans.  
To start
Parmesan asparagus pastry twists
This is a recipe that sounds a little bit fancy and complicated, but it's simple and easy to make in big quantities and it's delicious too. 
---
Ingredients
12 asparagus spears (multiply as needed)
2 tbsp extra virgin olive oil
1 pre-rolled puff pastry sheet
1 egg, medium
1/2 cup grated parmesan cheese
Freshly ground pepper and flaky salt
Method
Simply was the asparagus spears and fry them in some olive oil for about five minutes. 
Cut the pastry into strips and wrap around each asparagus spear, finishing these off by brushing the pastry with eff and sprinkling some parmesan cheese. 
Bake at 200c for 20 minutes until the puff pastry is golden. 
The main event
Mushroom, brie and cranberry Wellington
---
Ingredients
100g cranberries
400g mixed mushrooms, finely chopped
125g brie
1 large red onion, finely diced
1 garlic clove, finely chopped
1 large carrot, peeled and grated
1 tsp dried sage
1 tbsp lemon juice
1 tbsp tomato purée
1 tbsp freshly chopped rosemary
2 tbsp freshly chopped parsley
1 tbsp vegetarian Worcestershire sauce
1 egg, medium
100g fresh breadcrumbs
Freshly ground black pepper and flaky salt
1 packet vegan puff pastry
Method
Preheat your oven to 200c. Start with the mushrooms – they're the star of the dish.
Saute these with the onion, cranberries, carrot, tomato purée, Worcestershire sauce, garlic and dry herbs until they are fully cooked and any liquid has evaporated. 
Once this has cooled down, stir in the breadcrumbs and brie pieces. 
Place one sheet of pastry onto a lined baking tray, brush the edges with egg wash and spoon the mushroom filling into the centre. 
Top this with the second sheet of pastry and make sure it reaches the edges of the base. 
Brush the top with egg and snip little air vents into the top of the Wellington. 
Bake for 10 minutes at 200c, then bring down to 190c for 35-40 minutes. 
Working over the festive period?
If you're working over the holidays this year, Chef Rane has a few ideas on how you can batch cook and add some festive spirit to your work lunch while you're at it. 
Maple veggies and nuts
Cut up a big batch of kumara, pumpkin, courgette and anything else you fancy and pop them on a baking tray.
Add some mixed nuts, like pecans and seeds, and rub these in a bit of oil and herbs of your liking. 
Bake for 30-45 minutes at 200c until tender and then add two or three tablespoons of maply syrup, letting the veggies soak up the sweetness for a further five minutes. 
Be careful not to let the syrup burn. 
Champ mash
Boil the potatoes until they are soft when pricked with a fork (around 20 minutes), drain and mash.
Add 60g if butter and some salt, and mash into a smooth consistency.
While the potatoes are boiling, put on a cup of milk and a handful of spring onions and chives to heat.
Once heated, mash this into the potato mixture to create the creamiest mash you've ever tasted. 
Meat/veggie option
This is where leftovers come in. You're likely to have some leftover ham or beef going, or if you're in a veggie household, maybe some of the mushroom Wellington in the fridge. 
The maple veggies and mash will work with any of these, so once you've got a batch of these in your fridge, you'll have the perfect Christmas-inspired base to work with. 
You might also like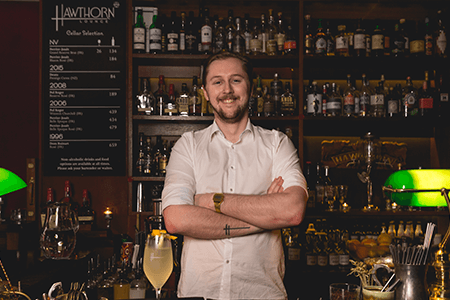 Fun festive drinks you can make yourself
11 February 2020
Alex Vowles, Bar Manager at Wellington's Hawthorn Lounge, gives us his advice on how to spice up your at-home bar menu using what's already in the kitchen cupboard.