Fun festive drinks you can make yourself
By MAS Team | 11 February 2020
Alex Vowles, Bar Manager at Wellington's Hawthorn Lounge, gives us his advice on how to spice up your at-home bar menu using what's already in the kitchen cupboard. 
"For the festive season, there are two drinks I love making because of the simplicity of the ingredients. You're bound to have them lurking around somewhere, and they end up making the most delicious holiday drinks," Alex says. 
French 75
"This first is a drink that should be in everybody's repertoire, the French 75.
Named after a French artilleryw eapon, this classic is much like the gun it is named after, which was said to hit with remarkable precision. 
Champagne and other sparkling wine is already widely consumed around the holidays, so it's a no brainer that this cocktail suits this time of year."
---
Ingredients
30ml dry gin
20ml fresh lemon juice
15ml sugar syrup
75ml champagne (other dry sparkling wines also work very well)
Method
Combine the gin, lemon juice and sugar in a cocktail shaker, fill with ice and shake vigorously. 
Strain into a champagne flute and top with champagne. 
Garnish with a piece of lemon peel. 
Classic eggnog
"One thing we're known for here at Hawthorn Lounge is the classic eggnog we make for our regulars every 24 December. 
The holidays are a beautiful time to share a drink with those who have made your year special, and this is our way.
"It is best prepared ahead of time and is great for serving to large groups of people if you're entertaining. 
If there are kids in the group, simply make a small, whiskey-less batch too. 
"This is a recipe I whipped up last year for my partner and in-laws with no fancy equipment in a bach in Paihia."
---
Ingredients
200ml bourbon whiskey
360g white sugar
8 whole eggs
500ml fresh whipping cream
720ml whole milk
Method
Combine all ingredients in a large mixing bowl.
Using an egg beater or whisk, mix until all combined and the mixture forms a smooth consistency. 
Add the combined mixture into jars or bottles, seal and refrigerate for a minimum of four hours and a maximum of four weeks (the alcohol and sugar preserve the mixture very well).
When it comes to serving time, I like to add small amounts to a blender, blend until nice and frothy and pour over ice with some grated nutmeg over the top. 
If bourbon isn't to your liking, just about any brown spirit works, especially rum and cognac. 
You might also like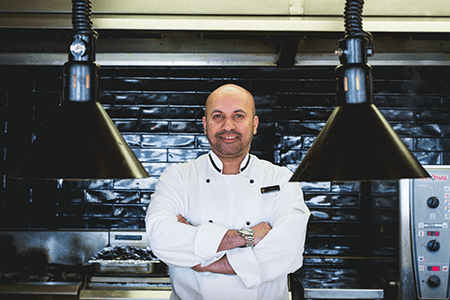 Celebration made simple
10 February 2020
Amey Rane, Executive Chef at Forage in Wellington, shares a few recipe ideas for Christmas dinner that are easy to prepare for bigger groups and will cater for the meat lovers, vegetarians and vegans.