Kishan Seger has been named as 2023's Young Engineer Award winner, an accolade proudly supported by MAS as part of the Engineering New Zealand ENVI Awards. MAS is proud to be a sponsor at the event, which showcases innovative engineering solutions that have a significant impact on New Zealand and our people.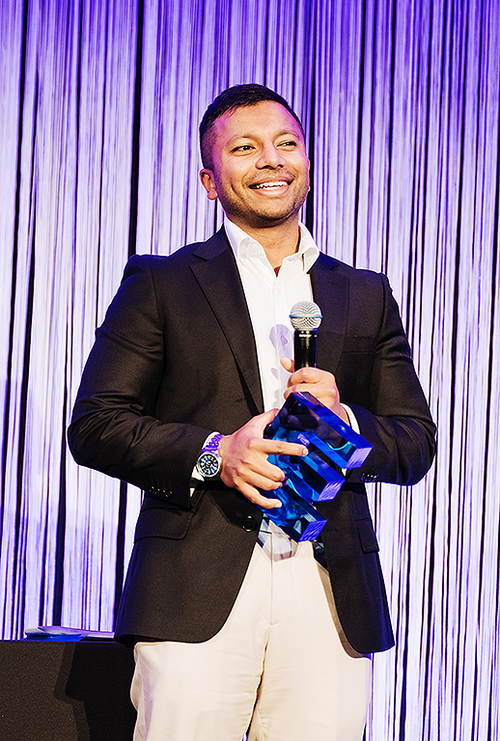 Held on July 28 at the Auckland Museum, the event brought together more than 200 of the country's top established and emerging engineers, with awards across nine categories. 
For Kishan, scooping the MAS sponsored Young Engineer Award was a true honour. "I was absolutely thrilled to hear my name called out as the winner, and to be recognised alongside such talent in the industry is truly humbling." 
He says it was his knack for maths that led him to study engineering at the University of Auckland, and since starting his current role at Beca 6 years ago, his interest in buildings has morphed into a passion.  
"It's incredible to think you can make such an impact with work like this. Not just on the built environment, but an impact on the people you're working with and the wider community. It's so rewarding seeing projects come to fruition. Of course it's challenging too, but if the job was boring, I wouldn't be doing it!" 
These days, the structural engineering specialist is involved with everything from providing seismic advisory services to some of Aotearoa's biggest companies, to delivering seminars on sustainable construction. But at the heart of it all, Kishan says it's the people aspect of the profession that he enjoys the most. 
"Ultimately, buildings are about the people that use them. They are there to enable people to interact with each other. So from an engineering point of view, it's about balancing all the other factors around ensuring a building is developed in a way that gets maximum use.  
"There's also the people you work alongside. Engineering is very much a team profession; you're never doing anything by yourself. Part of my job is bringing teams of people from different backgrounds together for a common goal. It's a great feeling to get a big project out the door, we always go out together to celebrate."   
Kishan already has a long list of career highlights, with a potential development at Waikeria prison a particular stand-out.  
"Part of the work included designing a recreational facility where inmates can interact with their loved ones when they come to visit. The project had health and wellbeing at its core, as well as an emphasis on building for sustainability, and that really resonated with me," he says. "Again, it's about creating something that has a lasting impact on the community that uses it."  
Most recently, the Tauranga-based engineer has been turning his focus to ways to reduce a building's environmental footprint.  
"Carbon reduction is the sort of topic where there's new information almost month to month, so keeping on top of it all is nearly a job in itself. I really enjoy delivering sustainability advice to clients, and sharing my knowledge through presentations. It's great that a lot of people are interested in it.   
"There are also some misconceptions in the sustainability space, like the idea that building in an environmentally-conscious way is always more expensive, and I'm big on flipping the usual narrative on its head. I think it's my passion for the work that drives me to share my knowledge as much as possible."  
And even when he's not at the office, he's often got engineering on the brain.  
"My wife says I'm a bit of a weirdo. If I walk past a building that I know nothing about, I can't help but try and figure out how it works. I'll be that guy standing in the street just staring up at something. You get that with this job!"  
---
More news
8 September 2023 - The New Zealand Dental Association Employment Fair is not your average job expo, it's more like real-life speed dating for job opportunities.
26 September 2023 - MAS has won two Gold awards in the 2023 Brandon Hall Group HCM (Human Capital Management) Excellence Awards for the MAS Protect Accreditation Programme.