In 2021, MAS turns 100 years old, and to celebrate, we're creating a series of short documentary videos to tell the stories of our Members and staff over the past century.
We've seen a lot and our history has closely reflected that of our society as a whole as we grew from a small dominion of Britain after World War I into the vibrant, diverse, progressive place we are today.
We're looking for stories that will describe a century of professionalism and progress in Aotearoa. Stories like that discovered by our Wellington Regional Manager David Gordon when he joined the MAS team eight years ago.
After reading some of MAS's history, David asked one of his colleagues to take a look at one of the first MAS policies issued, dating from 1921.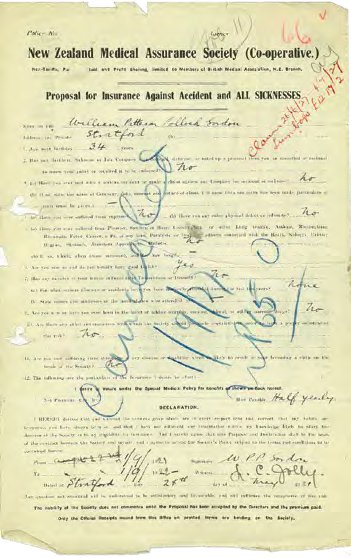 It was an Accident and All Sicknesses policy, and it turned out to have been for Dr Bill Gordon, David's grandfather, who was also listed as a provisional director of the new Society.
David comes from a long line of Taranaki doctors – his father, uncle, grandmother and grandfather were all GPs in Stratford – but he had no idea his family had been instrumental in establishing MAS.
His grandparents were both prominent in health and medical issues across New Zealand. His grandmother Doris Gordon was made a Member of the Order of the British Empire in 1935, and in 1970, Bill was made a Commander of the Order of the British Empire for "very valuable services to medicine".
Doris Gordon was a towering female figure in New Zealand medicine from the 1920s until the 1950s. She was a pioneer of obstetrics as a medical speciality, a pioneer of anaesthesia for women in childbirth and a pioneer as a female partner in a medical practice. Today, she has an entry in the Dictionary of New Zealand Biography and a street in Wellington named after her.
Share your story
If you have a similar story you'd like to tell us or some memorabilia you'd like to share, we'd love to hear from you. Email us at mas100@mas.co.nz and help us tell our story.
---
More news
23 November 2020 - Congratulations to Pathfinder Asset Management, who has taken out the MAS-sponsored Social Impactor Award at this year's Sustainable Business Awards.
4 November 2020 - MAS is excited to be category sponsor at Brendon Foot Supersite Round the Bays 2021. Join us at this iconic event!