June 2019 Quarterly Return
A bumpy quarter
Financial markets continued to shake off the extreme weaknesses of the December 2018 quarter and the unit price of all our Funds ended the June 2019 quarter at new month-end highs. 
The quarter began strongly with markets increasingly confident about economic growth and company earnings - underpinned by the likelihood of central banks around the world keeping interest rates low. 
But it wasn't all plain sailing as markets responded to dramatic political and economic developments around the globe. There were several factors that led to this bumpy quarter:
Riding the rollercoaster of US-China trade tensions
During April it looked like a resolution of US-China trade tensions was imminent, however investors were taken by surprise in May when US President Trump tweeted an announcement that trade talks with China had broken down. This quickly escalated into fears of a full-blown trade war between the world's two biggest economies through May and into June. The Trump and Chinese President Xi Jinping met in Osaka, Japan, at the G20 Summit in June where Trump surprised again by agreeing to resume negotiations, halt proposed new tariffs and step away from his ban on US companies doing business with Huawei. 
UK political chaos
Meanwhile, the UK appeared to be heading for a hard Brexit from the European Union with Prime Minister Theresa May unable to get her deal approved by the British Parliament. This culminated in her resignation, leading to a leadership race.
Record low interest rates
Investors scrambled to price in the increased risk of a sharp slowdown in world growth and even recession. As a result, most world share markets fell around 5% in May while long term interest rates fell to new lows as markets priced in the potential for cuts in official cash rates. 
Indeed, the heightened risk to global growth did see several central banks (including the Reserve Bank of New Zealand) either cut their respective official cash rate or signal the likelihood of doing so. This proved to be just the tonic that global share markets needed in June to recover their losses from May. 
The outcome for the quarter for MAS Funds is illustrated in the chart below.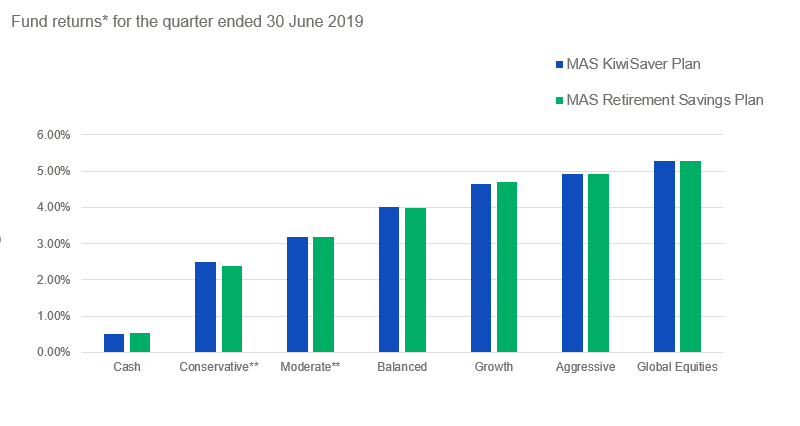 Notes: 
* Returns are after total annual fund charges and before tax.
** Prior to 30 November 2018 Conservative was called Defensive and Moderate was called Conservative. 
To learn more about how each of the MAS KiwiSaver Funds performed during the quarter, refer to the relevant video below
Conservative
Moderate
Balanced
Growth
Aggressive
Global Equities
Proportion of Return illustrates the different assets' contribution to the Funds' total return for the quarter, expressed as a percentage of 100%.
Proportion of Return is calculated using gross returns for the quarter multiplied by quarter end-asset mix weightings.
Returns are sourced from the investment manager, JBWere. 
What's next
Despite the strong performance of share markets recently, our investment manager, JBWere, has become more cautious on the return outlook for the coming months and consequently has adopted a modestly more defensive strategy for MAS Funds. 
While some of this reflects a desire to lock-in some of the solid asset returns achieved over the past year, it also reflects growing risks JBWere sees to the outlook for earnings at a time of lacklustre global growth and unresolved trade conflicts.
Moreover, JBWere feels the recent support to share market valuations from the prospects of further monetary policy easing has now largely run its course, meaning more onus now falls on earnings to drive returns from here. 
As a result of this shift, our Funds have reduced their allocation to international equities a little and increased their allocation to cash. 
JBWere continue to closely monitor developments and will look to lift the exposure back to international equities once there is evidence that global growth is stabilising and there is a positive resolution to current trade conflicts. 
We can help
To see monthly updates on Fund unit prices and returns, use the links below.
If you're unsure if the Fund you are in is right for you, we recommend you check your risk profile using our online tool. 
If you want to switch Funds please complete a Switch Form. There is currently no fee for switching. 
We always recommend you get advice. Our advisers aren't paid commission and as a benefit of membership their advice comes at no extra cost to you. You can arrange a meeting with a MAS adviser here. 
Disclaimer
The Trustees of the Medical Assurance Society KiwiSaver Plan and the Medical Assurance Society Retirement Savings Plan are the issuer and manager of each of those Plans. 
The Product Disclosure Statement for the Medical Assurance Society KiwiSaver Plan is available here.
The Product Disclosure Statement for the Medical Assurance Society Retirement Savings Plan is available here. 
---
More news
1 August 2019 - The MAS commitment to responsible investing has been further developed. So now within the responsible investing mandate of our international equities, we're choosing to only buy shares in companies that are leaders in their industries..
18 July 2019 - The Earthquake Commission (EQC) Act 1993 established the New Zealand government's natural disaster insurance product, known as EQCover. In February 2019, the Act was amended, bringing in key changes to the law...