When elephants fight, the mice get trampled
The old saying "when elephants fight, the mice get trampled" could equally be applied to the battle between the United States and China over trade. The tit for tat increase in tariffs on each other's exports is increasing costs for consumers and reducing sales for businesses – both of which are starting to put the brakes on their respective economies. The resulting slowdown in economic activity is in turn leading to less demand for imports from other countries, causing a slowdown in those economies as well.  
New Zealand Dollar slumps
As a small export-dependent economy with China as a major trading partner, New Zealand is particularly vulnerable to the intensifying trade war. This was reflected in the New Zealand Dollar falling about four cents (7%) against the United States Dollar over the quarter, to a three-year low.
New record low interest rates
The Reserve Bank of New Zealand joined a host of other central banks in cutting its official cash rate to a new record low and promising more to come, if necessary, in an attempt to stimulate economic activity. These moves saw long-term interest rates in many countries, including New Zealand, fall to new historic lows. This in turn boosted the local sharemarket as investors faced with very low bank deposit interest rates sought higher potential returns available from companies that paid comparatively high levels of dividends. 
MAS Fund returns
The outcome for the quarter for MAS Funds is illustrated in the chart below.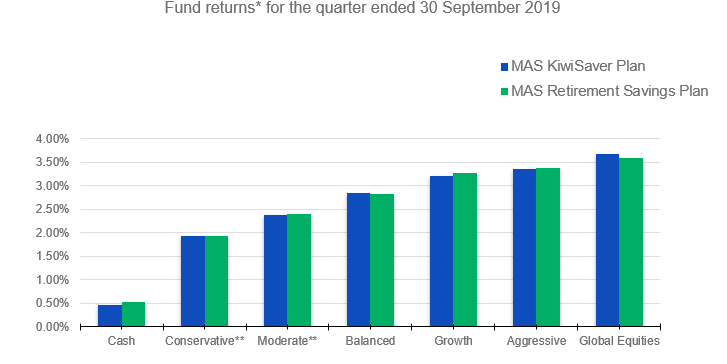 Notes
* Returns are after total annual fund charges and before tax.
** Prior to 30 November 2018, Conservative was called Defensive, and Moderate was called Conservative. 
What's next
Our investment manager, JBWere, continues to take a somewhat cautious view towards markets and the return outlook for the coming months. As a result, it maintains a modestly reduced allocation to international equities and higher allocation to cash for MAS Funds. 
Their caution centres on the fact that the global growth environment remains fragile at a time of heightened policy uncertainty, and this presents downside risks to corporate earnings. They note that recent central bank actions and potential fiscal stimulus are likely to support the economic cycle. However, in order to be more positive on international equities, a resolution to current trade conflicts – which are casting a shadow over the outlook – will likely be necessary. A further escalation in these conflicts, which unfortunately remains a risk, would see them shift more defensive. 
We can help
To see monthly updates on Fund unit prices and returns, use the links below.
If you're unsure if the Fund you are in is right for you, we recommend you check your risk profile using our online tool. 
If you want to switch Funds please complete a Switch Form. There is currently no fee for switching. 
We always recommend you get advice. Our advisers aren't paid commission and, as a Member, you don't have to pay for their advice. Arrange a meeting with a MAS adviser today. 
Disclaimer
The Trustees of the Medical Assurance Society KiwiSaver Plan and the Medical Assurance Society Retirement Savings Plan are the issuer and manager of each of those Plans. 
The Product Disclosure Statement for the Medical Assurance Society KiwiSaver Plan is available here.
The Product Disclosure Statement for the Medical Assurance Society Retirement Savings Plan is available here. 
---
More news
21 October 2019 - Under the MAS Responsible Investing Strategy, for the responsible investing mandate of our international equities, we only buy shares in international companies that have sound environmental, social and governance (ESG) practices.
11 October 2019 - MAS protects what matters most to our Members, and with more of our lives moving online, cybersecurity is more important than ever. That's why we're proud to support Cyber Smart Week (14-18 October) – an initiative organised by CERT NZ.