24 July 2018
Report on investment performance
Returns bounced back from the previous weak quarter as investors became more confident that the earlier slowdown in global growth was temporary and company earnings in the major share market's exceeded expectations. It wasn't all good news though as by quarter-end the escalating trade dispute between the United States and both China and the European Union raised fears of damage to global economic growth. Consequently, share markets generally closed off their highs. The returns for the portfolios are outlined in the chart titled Returns* for the quarter ended 30 June 2018.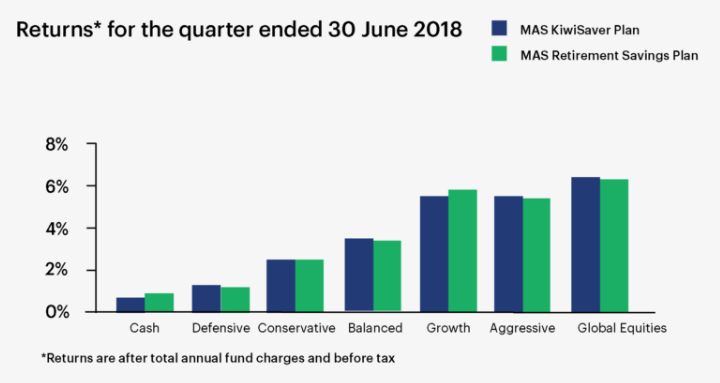 The softening of world economic data that caused the sharp weakness in world share markets in the March quarter thankfully proved to be temporary and as a result investor confidence improved, pushing most share markets higher. This confidence was boosted by very strong company earnings growth. In the United States this was up 25% on average – the highest on record while in Europe analysts were upgrading their earnings forecasts at the fastest rate in a decade.
The strong growth in company earnings reflects good underlying demand plus strong cost control. A key part of this cost control is relatively low increases in wages – reflecting both international competition (think outsourcing to Asia of call centres for instance) and the advances of technology (replacing human workers).
The persistently low levels of inflation in most countries, despite strong economic growth, has meant that official cash rates (or their equivalent) in most countries remain near record lows – a key positive for share markets. Only in the United States is the official cash rate increasing, but then only by very small increments and still very slowly.
A notable feature of the quarter was a sharp fall in the New Zealand Dollar. It fell over four cents against the US Dollar due in large part to the market assessing that a rise in the New Zealand Official Cash Rate was now more likely to be in 2020 rather than 2019 and consequently interest rate differentials more significantly favoured the US Dollar.
The war of words between the Trump Administration and both China and the European Union regarding trade tariffs escalated by the end of the period and this led most share markets to close off their quarter highs. Investors fear that a trade war will hurt global growth and in turn company profits. This was graphically illustrated by the near 10% fall in the Chinese sharemarket over the quarter.
Currently the "tit for tat" tariffs being imposed have not directly impacted New Zealand but as a small economy dependent upon global trade we are vulnerable, and this was another factor behind the weaker New Zealand Dollar.
The returns our KiwiSaver Balanced Portfolio achieved in individual asset classes are outlined in the chart titled Asset Class Returns* for the quarter ended 30 June 2018.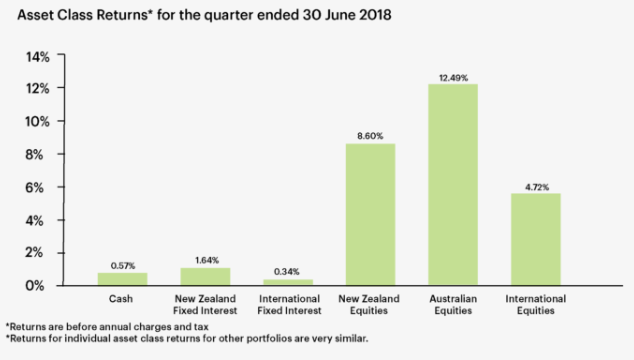 The outlook and portfolio positioning
Against a backdrop of robust economic growth in most countries, strong earnings growth and low interest rates our investment manager JBWere remain constructive on global equities. That said, they note that the fact that we are in the late stages of one of the longest increases in global share markets in history is reason for caution. Further, there are a number of potential risks that they are watching closely, particularly developments around global trade and the uptick in merger and acquisition activity. However, they don't see significant "red flags" on the near-term horizon that cause them material concern. As such, they continue to forecast global equities to finish higher than where they began. However, investors will need to adjust to the higher level of volatility we have seen year to date and expect to see more from here.
JBWere are an investment manager for MAS and one of their responsibilities is setting the strategy of the portfolios. To view a video by JBWere strategist Bernard Doyle explaining his outlook for investment markets click here.
---
More news
27 June 2016 - On 23 June 2016 UK voters were asked: 'Should the United Kingdom remain a member of the European Union or leave the European Union?' Voters opted 51.9% in favour of 'Leave the European Union'.
2 September 2019 - We are seeking four independent trustees to help develop the vision, strategy, focus areas and funding approach for MAS Foundation – an exciting new philanthropic initiative to promote health in New Zealand.