MAS is supporting BBM's Foodshare programme, providing much-needed food parcels to whānau across Counties Manukau. For every MAS Member who signs up to Āki between now and the end of April, MAS will donate a $50 PAK'nSAVE voucher to BBM to support families in the Counties Manukau region, up to the value of $5,000.
Every day, Dave Letele (Ngāti Maniapoto/Samoa) and his team along with a group of volunteers, pack up dozens of healthy food parcels for people and whānau in need across south Auckland.
Since the start of the pandemic, Dave, founder of fitness and wellbeing training programme Buttabean Motivation (BBM), has been delivering nutritious and filling food parcels to people who are struggling to feed themselves and their families. Many of them are unable to leave their homes and go to the supermarket due to self isolation requirements.
The parcels are made up of pantry staples including tinned food and fresh fruits and vegetables, along with a protein pack of meat and eggs, and a box of household cleaning supplies.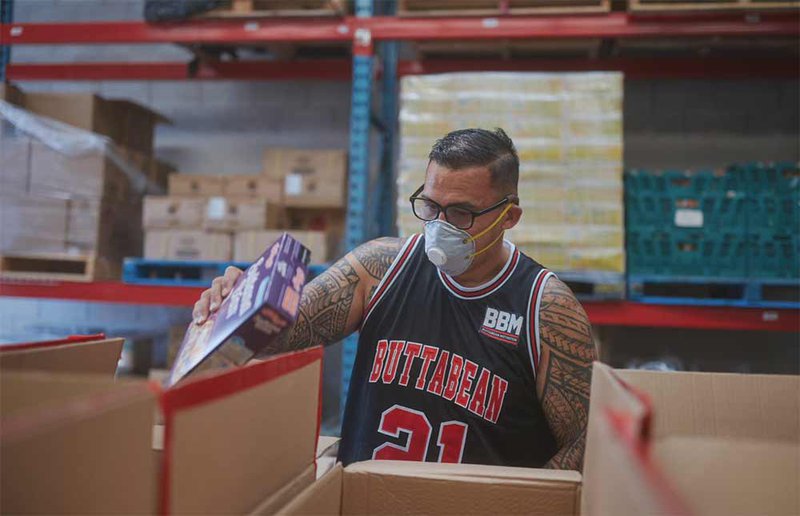 Dave says each parcel costs $300, some of which is covered by Government funding. The rest comes from grants and donations.
"We opened the Foodshare programme because we could see that for anyone who was just keeping their heads above water, lockdown was going to really stuff them – and that's exactly what's happened," he says.
"People who were struggling beforehand, Covid has made it worse. It shone a light on the poverty that's already here. People are a lot more desperate. We have people coming up every day asking for food, we get messages every single day from people asking for help."
Getting back to training
Dave considers himself a "servant leader" and is happy to do his duty and help feed his community.
But now, thanks to a team around him to help manage the Foodshare programme, he is able to get back to what he set BBM up for – helping people get healthy through exercise training sessions and food plans.
"I never wanted to run a food bank and I've tried to keep it on a small scale, but given how many community groups, churches, and charities have been relying on us, that's why we had to do this. I didn't have any funding, I just did it," he says.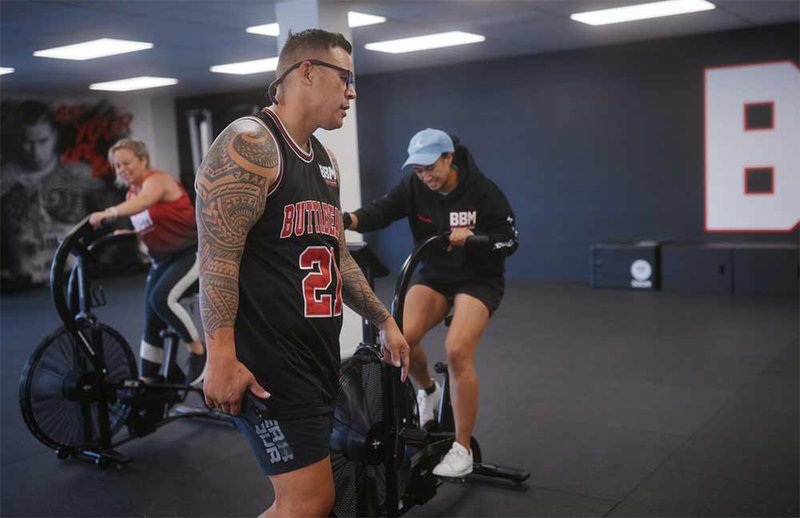 BBM's mission is to reduce obesity amongst Māori and Pacific people in New Zealand through education, enabling them to choose a healthy and active lifestyle. As a not-for-profit, they offer their training and motivation for free and seek donations from business and the wider community to support their work.
"It's successful because everything I teach has come from my experience and I know it works. I'm giving people the tools that they need to be able to live a healthy lifestyle forever. It's not about doing a challenge and once that's is finished you just go back to your old way of living. I'm giving people the tools to be able to maintain it for life."
Dave's goal is to take BBM around the country and the first gym outside Auckland is set to open in Tokoroa later this year.
"What we do should be everywhere and I'm not talking about the exercise – I'm talking about our culture and the vibe that we have at BBM."
All MAS Members and their families receive free access to the Āki Wellbeing Hub
This online resource centre provides tools and simple, pragmatic advice about how to improve your physical health, along with your nutritional, mental, and financial wellbeing.
Click here to activate your account and follow a short registration process. To verify your account, you'll need your MAS Member number, which you can find on any emails or letters you have received from us. 
---
More news
3 March 2022 - Mindful Money, a well-known charity promoting responsible investment in NZ, has just released a list of KiwiSaver funds that have investments in Russian Government bonds or Russian companies with ties to the Kremlin.
23 February 2022 - In this article with our investment manager, JBWere, we explain what has caused recent movement and what this can mean for our investors.