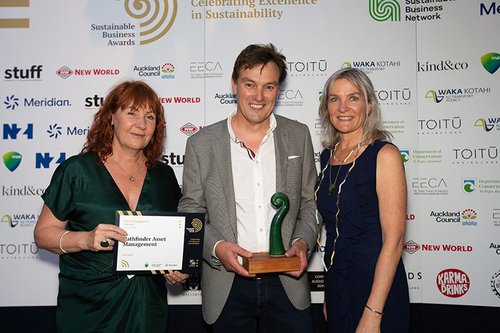 Congratulations to Pathfinder Asset Management, who has taken out the MAS-sponsored Social Impactor Award at this year's Sustainable Business Awards.
Whenua Iti Outdoors was also recognised for their social impact, earning a commendation from the judges.
The Social Impactor Award recognises the role New Zealand's businesses have to play in encouraging sustainability in their day-to-day business practices. Businesses have the potential to effect enormous change for the good of our communities through socially-minded products and services, in-house wellbeing policies, their procurement practice and supply chains, and the investments they make in socially responsible initiatives.
MAS Chief Executive Martin Stokes said sustainable business practices were more important than they had ever been.
"Sustainability is all about long-term thinking. What can we do in the here and now that will help us all live better lives well into the future? Businesses have a huge part to play in achieving a more sustainable future thanks to the resources they can bring to bear on the problem – their people, their investments, their procurement and supply chains, their practices.
"In the past, businesses might have thought about the cost to their bottom line of acting sustainably. That mindset is starting to shift towards thinking about the cost of not acting sustainably.
"We're already doing that ourselves with initiatives like the MAS Foundation, and our staff Here for Good Days.
"But we want to inspire a healthier New Zealand in general and sponsoring the Social Impactor Award is a great way of bringing more people and businesses into that conversation."
Find out more about what MAS is doing to embed sustainability within its business:
Find out more about the Sustainable Business Awards and the Social Impactor Category.
---
More news
4 November 2020 - MAS is excited to be category sponsor at Brendon Foot Supersite Round the Bays 2021. Join us at this iconic event!
2 November 2020 - MAS is working with the Earthquake Commission to make it easier for Members to submit claims relating to natural disasters.