Run and Become has kicked off a fun training programme to get hundreds of Wellington kids and whānau ready to participate in Brendan Foot Supersite Round the Bays in February.
For a second year MAS is sponsoring the programme, which is run by not-for-profit organisation Nuku Ora to encourage kids to be more active and healthy.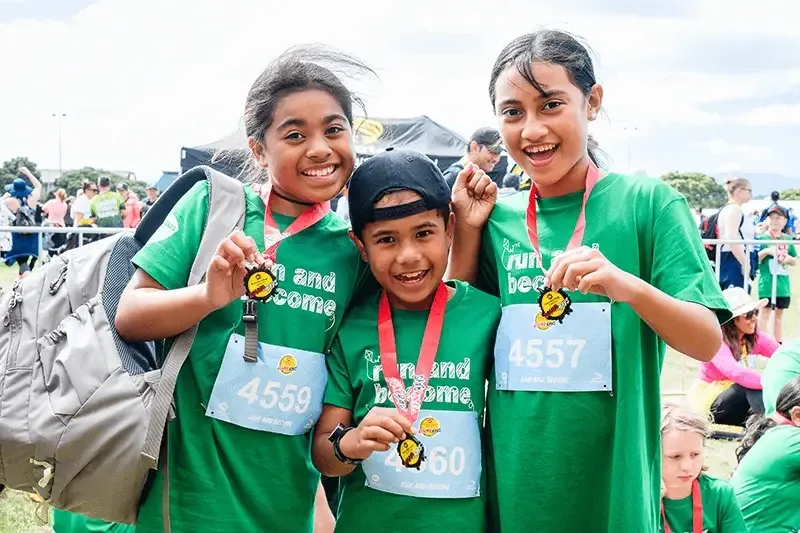 Run and Become participants from 2021 event with their medals
Run and Become aims to make physical activity fun and accessible for tamariki from predominantly low decile schools in Wellington. The programme offers free entry and transport to Brendan Foot Supersite Round the Bays for children and their parents or caregivers, as well as t-shirts to run in and a healthy breakfast for fueling up on the big day.
The programme kicked off with a fun workshop for students from Avalon Intermediate in Lower Hutt, who learned some easy games to help them stay active over the summer holidays without needing any special equipment.
Nuku Ora event manager Paddy Pierce says the Run and Become programme was set up to help the iconic Wellington event, Brendan Foot Supersite Round the Bays, reach more of the region's young people. 
"Partnering with MAS means that we're able to help more tamariki participate in physical activity by providing free entries and transport to thr 2022 event for 750 children and their family members. 
"Kicking off with a workshop means Nuku Ora's Healthy Active Learning team can give kids some great physical activity resources, so they can go home and train with their family in the leadup to the event," says Paddy.

MAS Head of Brand and Partnerships Nicola Airey says "MAS is on a mission to inspire a healthier Aotearoa, and this is kaupapa we share with the Run and Become team. Their work helps kids and whānau make healthier choices for the long term, and we're glad we can support them to get more young Wellingtonians along to Round the Bays."
MAS also sponsors the 6.5km fun run or walk at the annual event, which takes place in Wellington on Sunday 20 February 2022. MAS Members receive 10% off the registration fee, of any category, until entries close on 18 February 2022. 
---
More news
22 December 2021 - Social enterprise, Gap Filler, was the winner of the MAS-sponsored Social Impactor award at the recent Sustainable Business Awards, in recognition of their innovative Good Spot parking programme.
2 December 2021 – Written, produced and directed by talented medical students, MAS has supported the University of Auckland Med Revue now for 4 years. Read on to hear about this year's revue, MAS Presents: Med School Musical.