For Otago Polytechnic Deputy Chief Executive: People, Culture & Safety Laura Warren, human resources is about making "the good times better, and the bad times easier."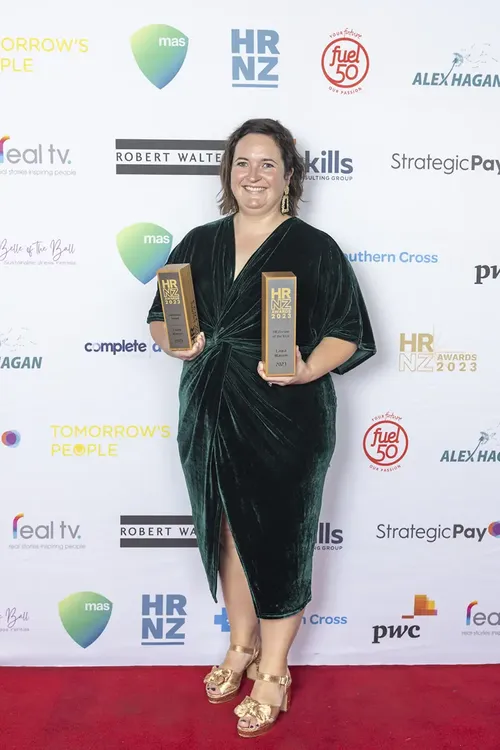 Laura was recognised for her excellence at this year's NZ HR Awards, winning the Leadership Award, sponsored by MAS, as well as being named HR Person of the Year.
MAS also sponsored the Emerging HR Practitioner of the Year, which was won by Jason Cook from Mt Pokaka Timber Products.
Laura says a love of people drove her to a career in HR, and the industry's constant evolution has kept things interesting.
"I find people absolutely fascinating. And I love problem solving, and trying to support people through difficult times. HR is one of those functions that if it's got something to do with a person at work, we're there, and I really love that."
For the past four years, she's been working to simplify the HR policies and processes at Otago Polytechnic (now Te Pūkenga).
"HR can get in its own way. It can be over-processed and over-policied and over-everything. So I have been focused on trying to eliminate some of that because it's better for the business, and it's better for us as we have more time to get on and do cool things.
"There probably isn't an organisation out there that wouldn't say that one of their top resources is their people, right? So if we want to get the best value out of our people, then it's our expertise that helps the business to do that."
Laura says she was honoured to win the Leadership Award, and couldn't believe it when she took out HR Person of the Year.
"I was so surprised and honoured, then I thought 'oh I can relax now, that's my category done' and then the supreme award came and they called out my name. I just couldn't believe it. I bawled my eyes out and couldn't speak; I have no idea what I said on stage. It was completely overwhelming."
Up and comer driving change
For Jason Cook, HR has been a way to push for change at Mt Pokaka Timber Products in Kerikeri.
Formerly a semi-professional rugby player, an injury forced him off the field at 23. He moved to Te Tai Tokerau, initially taking a sales position before being promoted to assistant operations manager.
"A big part of that role was around recruiting and that led me into learning about recruiting, training and development, health and safety compliance, and employee relations. That led me to be promoted to human resource manager."
Jason says he discovered a love of working with people across the 122-person organisation.
"I'm probably the only one that interacts with every single person on site. I'm the first face they see when we're interviewing for new positions, and throughout their employment lifecycle, from assisting and monitoring performance reviews. And then dealing with them in an exit interview.
"So right from the beginning, all the way through until the end, I'm dealing with people, which I really enjoy."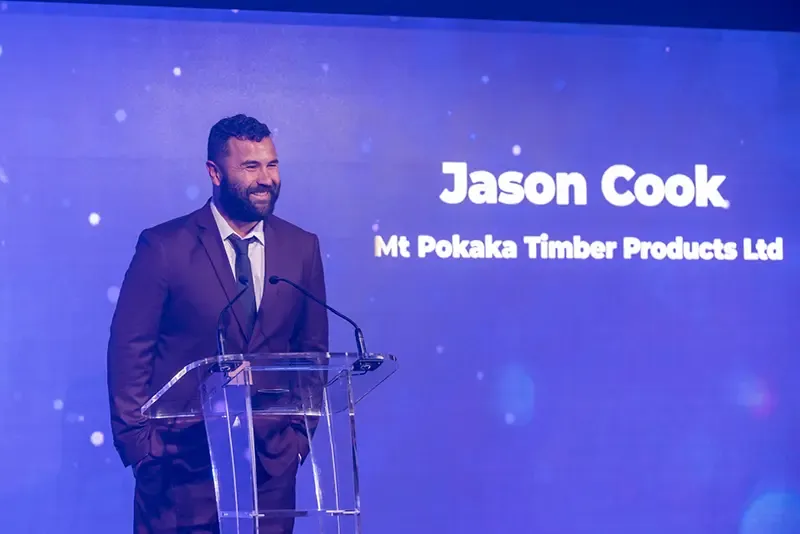 He has been pushing to increase the number of women working in the male-dominated forestry company, as well as changing the company's policy to allow hiring of 16 and 17-year-old school leavers.
"When I started, the only women working in the organisation were administration staff. Now we have eight women working in our male-dominated production departments. And I saw there's an opportunity to fill gaps in the workforce with school leavers as long as they're the right individuals. We now employ seven 16 to 17-year-olds and they're doing very well."
His competitive nature honed on the sports field meant entering the NZ HR Awards was an opportunity to measure himself against others in a professional space. He says he was "quietly confident but surprised" to be named Emerging HR Practitioner of the Year.
"Being recognised outside my organisation amongst professionals who do the same work as me, gives me a huge sense of pride and tells me that I'm actually doing quite well," he says.
MAS is a platinum sponsor of the NZ HR Awards. Head of Brand and Partnerships Nicola Airey says HR professionals throughout the country, like Laura and Jason, often work in the background, so it's great to see their work recognised.
"Laura has been a leader in HR for the past few years, and it's great to see her hard work recognised. Jason is newer to the industry but is a promising up-and-comer who is already driving initiatives that will improve the organisation and industry as a whole.
"We know how important hard-working, empathetic and driven HR professionals are for the organisations they work for, and we want to congratulate both Laura and Jason, alongside all the winners of the 2023 NZ HR Awards."
---
More news
In June 2023 the Financial Markets Authority (FMA) filed proceedings against MAS in the High Court in relation to the self-reported issues and breaches of the Financial Markets Conduct Act (FMCA).
01 June 2023 - MAS has contacted impacted Members after a fulsome review was completed as part of our Conduct and Culture programme. Some Members have yet to receive their funds.