Annual statements FY21
Report on fund investment performance for the year ended 31 March 2021
The 2020/21 financial year offered a stark contrast to the previous financial year and several of our Funds produced their strongest annual return in their history.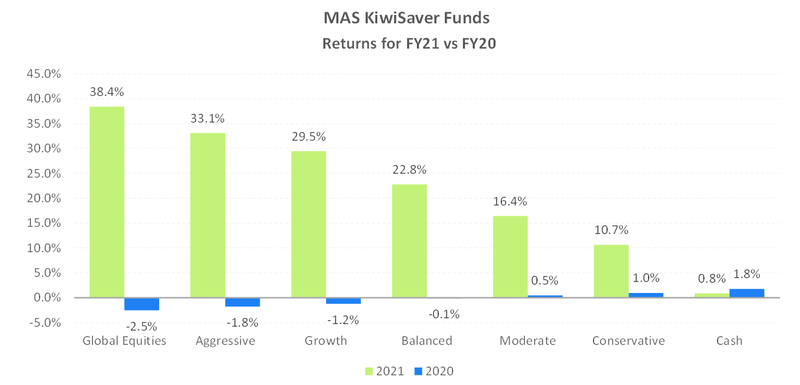 Returns are after fees, before tax. Returns for Retirement Savings Plan funs are very similar.
The full year returns are abnormally high – largely due to coming off a large COVID-19 related market drop in February and March of last year. 
There were two main driving forces behind the dramatic turnaround:
The actions taken by governments and central banks to reduce the impact of the COVID-19 pandemic, including wage subsidies, low interest rates, and direct lending to banks. 

The rapid development of effective vaccines for COVID-19 and the rollout of mass vaccination programmes. 
Together, these factors helped avoid the worst-case social and economic scenarios that investors feared at the end of the 2019/20 financial year, leading to increased confidence in global share markets. In fact, many share markets reached record levels with investors expecting strong growth once national lockdowns came to an end. 
MAS KiwiSaver Plan and Retirement Savings Plan Funds benefitted from the rebounds in global financial markets. While there was a dramatic COVID-related slump in fund performance at the end of March 2020, our Funds have more than recovered these losses over the past year.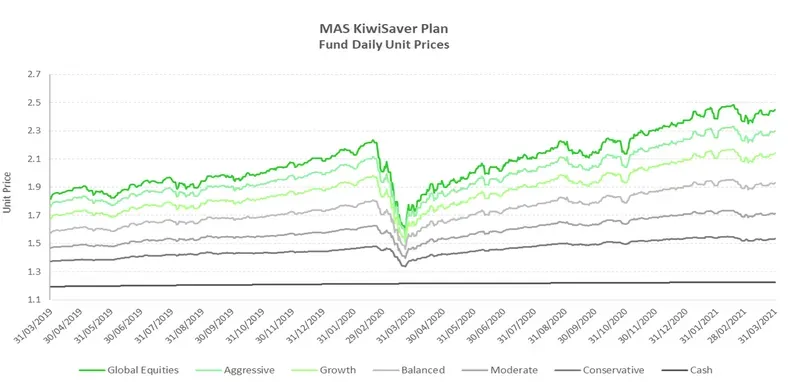 The rise in Fund unit prices over the year was driven by strong returns from all asset classes (other than cash), with the performance of our investment manager, JBWere, in Australian equities (part of the Australasian equities asset class) a particular highlight.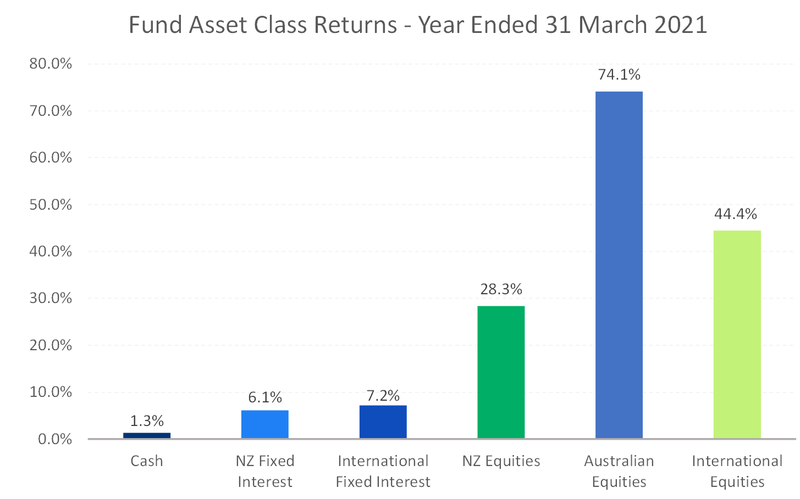 Returns are those achieved by the MAS KiwiSaver Balanced Fund and are before fees and taxes. Asset class returns for other MAS funds are very similar. 
Outlook
Our funds have a higher-than-usual allocation to growth assets such as Australasian and international equities. This reflects the positive view that our investment manager, JBWere has on the long-term prospects of these asset classes, compared with more defensive asset classes such as fixed interest and cash.
However, JBWere does expect continued volatility in financial markets over the next few quarters as investors try to assess the anticipated economic recovery. The main question will be whether the recovery continues at a rate that boosts company profits or whether share markets will become overheated, forcing central banks to raise official cash rates more than anticipated, crimping company profits and reducing share price valuations. 
We can help
The big swings in financial markets over the past year shows it's important to have a sound investment strategy and stick to it. 
To help you formulate your own retirement investment strategy, arrange a free consultation with a MAS adviser. To book an online or phone meeting, complete this form and we'll be in touch. 
It's also important to make sure you're in the right fund for your risk appetite. You can use our online risk profile questionnaire to see if you're in the right fund for your circumstances. 
If you decide to switch your fund after reviewing your risk profile or meeting an adviser, you will need to complete an investment strategy change request form: 
There is no fee for switching. 
Once you are comfortable with your investment strategy, you can see weekly updates on fund unit prices and returns on our website:
---
More news
13 May 2021 - Annual Statement and tax certificates for the year ended 31 March 2021: Frequently asked questions
In 1921 a group of Napier doctors agreed to form an unlikely venture: an insurance company formed as a mutual to serve the needs of doctors. A century later, MAS is still thriving. In many ways it has been a century of success against the odds...