Abbigail Surridge has been named this year's Emerging HR Practitioner of the Year at the NZ HR Awards 2022, an exciting career milestone for someone who never planned to work in HR.
"Chuffed" with this recognition after just three and a half years in the HR profession, Abbigail has taken the award out so much that some of the wording has started to "rub off". The Emerging HR Practitioner of the Year Award was supported by MAS, which was the principal partner of the annual industry awards.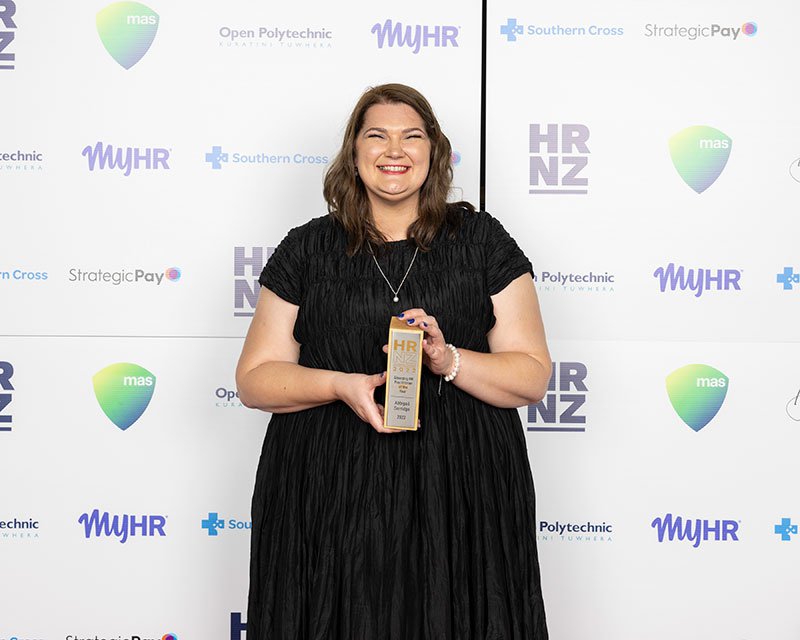 Abbigail Surridge, Emerging HR Practitioner of the Year 2022
Abbigail came to HR through an internal move from an executive assistant role at Blue River Dairy, an Invercargill-based organisation that makes dairy nutritional products. Having not studied HR, she did "a huge amount of on-the-job learning" through external HR consultants and other staff.
Now working as Blue River's People and Capability Manager, she's quickly developed her skills through hands-on experience, networking, training sessions, and mentoring, and has found the HR profession "incredibly supportive" throughout this journey.
Having heard about the NZ HR Awards over the last couple of years, Abbigail felt she was in the right stage of her career to enter in late 2021, and found the application process itself rewarding. 
"Being made to write down everything you've done in your work is a great moment of reflection. It made me acknowledge and appreciate how much I've grown over my career. We tend to focus on the harder stuff and don't find enough moments to celebrate our success," she said.
Abbigail felt "proud and honoured to be recognised amongst a group of amazing and successful HR professionals," and admitted to "LinkedIn stalking all the other finalists" ahead of the awards ceremony in May.
"It was the most supportive corporate event I've ever been to. It wasn't just about the winners, but really celebrating all finalists and their contributions and journeys. It didn't matter if you won or not, and it's the first time I've ever experienced something like that."
Surprised and thrilled to be named the 2022 Emerging HR Practitioner of the Year, Abbigail would now like to pay forward the mentorship she's received in her career to help other young HR practitioners develop and grow.
"The camaraderie between HR professionals in Southland is huge, and the industry is so supportive of one another's growth and challenges.I'd definitely like to pass on the support and mentoring I've got from my contemporaries to see how we can keep developing HR superstars in Southland, and grow and improve pathways for students coming out of school."
MAS also sponsored the HR Student of the Year Award, which went to University of Auckland's Amy Raine. Amy is already making a meaningful impact, mentoring fellow HR students, and serving as student representative whilst studying. Whilst studying Amy worked part-time as HR Coordinator for The Strand Veterinarian, where she recently got promoted to Practice Manager.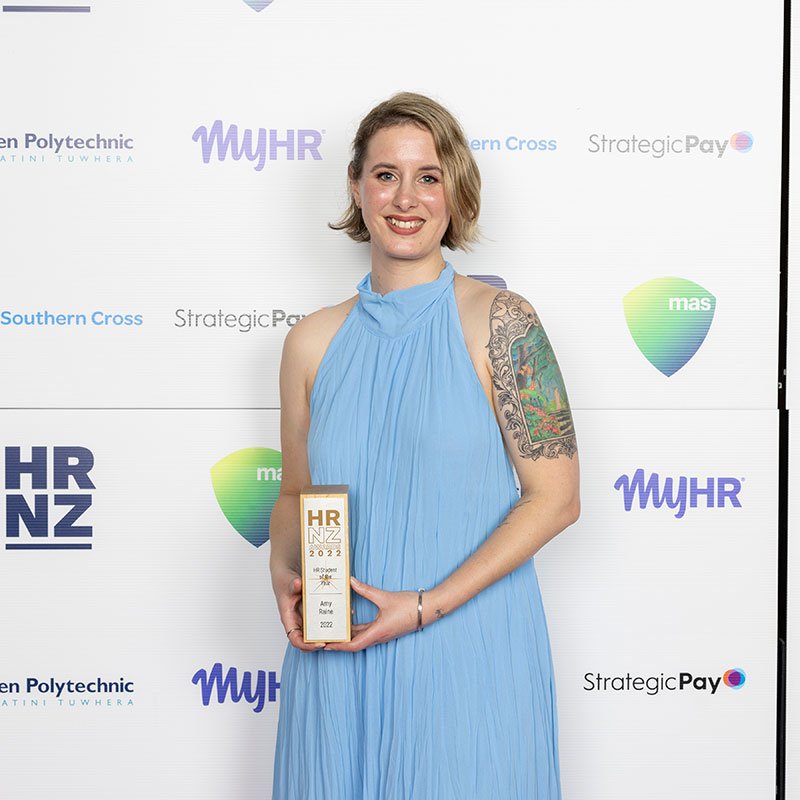 Amy Raine, HR Student of the Year 2022
MAS Head of Brand and Partnerships, Nicola Airey said the award finalists and winners represented the best HR professionals working in Aotearoa right now.
"It was great to recognise the valuable contribution of those working in the profession, and to support the next generation of HR excellence through the Emerging HR Practitioner of the Year and HR Student of the Year awards," she said. 
---
More news
26 May 2022 - MAS is calling for nominations for the role of Practitioner Trustee of MAS Members' Trust.
25 May 2022 - In this article, we report on investment markets and what this can mean for our investors.