MAS has invested in the Sustainable Business Network (SBN) for a third year, cementing its commitment to building a healthier Aotearoa.
SBN is a social enterprise that brings together New Zealand-owned and operated businesses that are looking to minimise their impact on the climate. The network fosters collaboration between these like-minded organisations, helping make sustainable business practices more mainstream.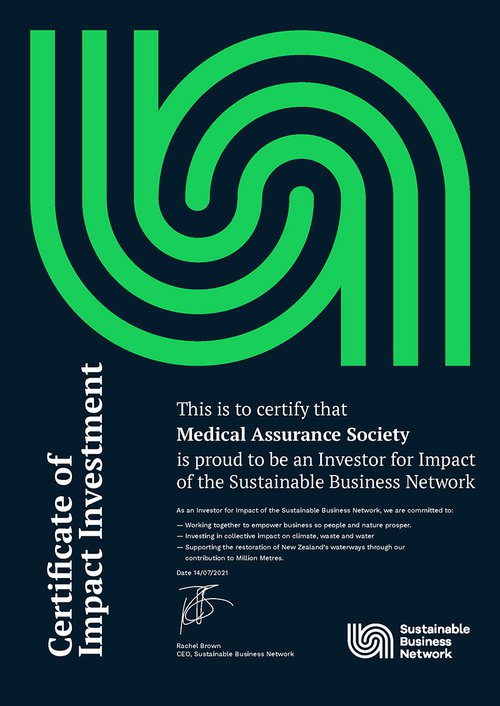 Investors in SBN have access to training, advice and resources to help them develop their own practices, as well as networking events to help them develop their own sustainable partnership and supply chains.
MAS is excited to support SBN's work helping businesses around the country to be more sustainable, says MAS Chief Executive Martin Stokes.
"Sustainability lies at the heart of everything MAS does, and we think businesses like us have a huge role to play in shaping a healthier Aotearoa. Investing with SBN is a great opportunity to support their work in elevating other Kiwi-owned businesses that are here for good, not just for profit," says Martin.
Renewing MAS's investment in SBN for another year means staying in the ecosystem of businesses with a strong sense of purpose, and opens the door to collaborating with and learning from them, he says.
SBN Chief Executive Rachel Brown says "we've been working with MAS for a couple of years, supporting their mission to be a sustainable and socially-conscious insurer. We know that health outcomes are directly linked to environmental and socio-economic issues, so the impact that we can create by partnering with MAS is huge."
MAS sponsors Social Impactor award for second year
MAS is proud to support the Social Impactor category at the Sustainable Business Network Awards for a second year. This category recognises organisations that are dedicated to improving people's lives through their day-to-day business practices.
The finalists are:
All Good: Purveyors of fair trade bananas and barista-grade oat milk, All Good, believe everything we consume should be good for us and the planet. They focus on minimising their impact through responsible supply chains and offsetting the carbon emissions used to get their delicious products to Aotearoa.
All Heart NZ: All Heart helps corporations redirect and repurpose what they don't need, and reduce their footprints through making procurement and supply chains more ethical, sustainable and socially-conscious.
Aroha Funerals: Aroha Funerals is reducing the environmental impact of the funeral industry with practices like eco-friendly caskets that don't use nails or screws and are made from wood involved in forest regeneration programmes.
Auckland Permaculture Workshop: Permaculture isn't just about organic gardening - it's a movement based on working with nature rather than against it. Auckland Permaculture Workshop shares these ideas through courses and classes to boost the resilience and biodiversity of the Auckland region.
AWWA: New Zealand's first period underwear brand, AWWA is indigenous-owned and works to unpack the stigma around menstruation by creating sustainable products and helping end period poverty.
Fair Food New Zealand: A third of all food globally is lost or wasted every year. Fair Food works to rescue surplus food and redistribute it to those who need it most in Aotearoa.
Gap Filler: Born out of the Christchurch earthquakes, Gap Filler brings life and energy to public spaces by creating fun, playful and accessible installations.
HealthPost: Natural health and beauty shop HealthPost is committed to making a better world. They're a certified carbon zero company and a living wage employer, and have created a trust to enhance the biodiversity of the top of the South Island, where they're based.
Isthmus Group: Isthmus is a purpose-driven architecture, landscape and urban design firm that aims to tread lightly on the land and respect New Zealand's unique natural environments.
Kaip​​ātiki Project: With a focus on growing a sustainable future, Kaipātiki Project is restoring Aotearoa's native landscapes through its plant nursery, stream regeneration programme, and education and events.
TROW Group: TROW Group is one of the largest commercial deconstruction companies in New Zealand, and is working to create a more sustainable construction sector by repurposing over 90% of the materials it salvages.
The winner will be announced at an awards night on 25 November.
---
More news
27 September 2021 – Jonathan Chambers has been named Young Engineer of the Year – an Engineering New Zealand award supported by MAS.
20 September 2021 – This year's MAS Talks with Sir Ian Taylor have been postponed until the new year. Find out more here.