Easing trade tensions boost investor confidence
The fourth quarter of 2019 was marked by strong returns, with many share markets hitting record highs as investors reacted positively to signs that the trade dispute between the United States and China was close to being resolved, economic data improved and there were further cuts in official cash rates. 
US and China agree on 'Phase One' deal
After failing to reach a comprehensive trade deal in the previous 12 months, the US and China reached a 'Phase One' deal whereby the US will roll back some of the tariffs on $360bn of Chinese goods in exchange for Chinese commitments to buy US agricultural products and other concessions. 
Negotiation on 'Phase Two', including copyright protection and transfer of technology should begin early in 2020. The de-escalation of the trade dispute removed a key source of concern for investors. 
Economic growth recovers
The run of relatively weak world economic data of the second and third quarters of 2019 now appears to be a soft patch rather than the beginning of something more sinister. Encouragingly, despite the slower economic growth, recent reports by companies of their earnings have generally seen them exceed expectations. The combination of a lower risk of recession and strong company earnings helped propel many share markets to record highs during the quarter. 
Central banks again cut official cash rates
Part of the reason that a recession in world economic growth appears to have been averted is due to cuts in official cash rates by many of the world's central banks in the previous few quarters. Not content with that, there were further cuts during the fourth quarter and ongoing commitment to do more if necessary.
One exception was here in New Zealand where the Reserve Bank opted to leave the official cash rate at a record low of 1.00% – after having cut it by a surprisingly large 0.50% in August 2019. The upshot was that the New Zealand dollar recovered much of what it had lost in the previous quarter, finishing up around three cents (five percent) against the United States dollar. 
---
MAS Funds returns
The outcomes for the quarter and year for MAS Funds are illustrated in the chart below.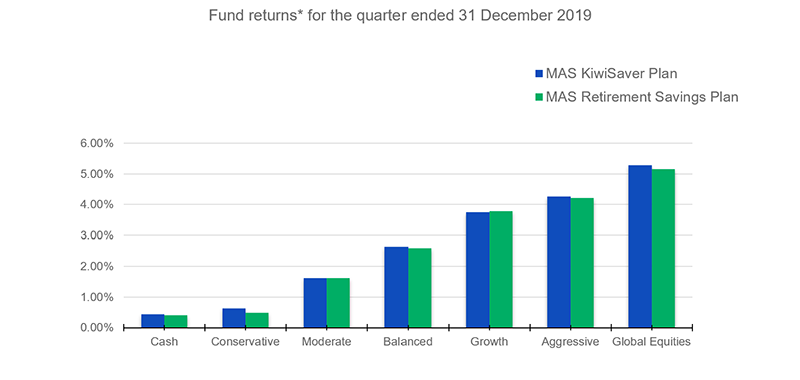 Notes:
*Returns are after total annual fund charges and before tax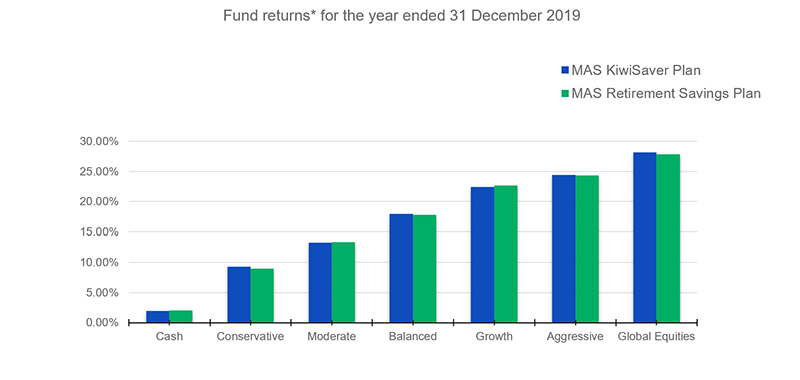 Notes:
*Returns are after total annual fund charges and before tax
---
What's next
In mid-2019, our investment manager JBWere adopted a more defensive investment strategy given uncertainty in the global markets. A more positive outlook and greater stability in the markets in the fourth quarter means JBWere have reallocated funds from cash back into international shares. 
Despite this move and the improved outlook, JBWere expects to see more modest returns for 2020 compared to the very strong returns for 2019. 
JBWere will continue to monitor economic and financial market developments and adjust the mix of asset classes with the Funds to optimise potential returns and risk. You can learn more about how this is done in our Statements of Investment Policy and Objectives:
---
We can help
To see monthly updates on Fund unit prices and returns, use the links below.
If you're not sure whether the Fund you are in is right for you, we recommend you check your risk profile using our online risk profiler tool. 
If you want to switch Funds, please complete a switch form. There is currently no fee for switching. 
We always recommend you get advice. Our advisers aren't paid any commissions and, as a Member, you don't have to pay for their advice. To arrange a meeting with a MAS adviser, complete this form and we'll be in touch. 
---
Disclaimer
The Trustees of the Medical Assurance Society KiwiSaver Plan and the Medical Assurance Society Retirement Savings Plan are the issuer and manager of each of those Plans. 
The Product Disclosure Statement for the Medical Assurance Society KiwiSaver Plan is available here. 
The Product Disclosure Statement for the Medical Assurance Society Retirement Savings Plan is available here. 
---
More news
9 January 2020 - Nine MAS Members have been recognised in the New Year's Honours List 2020.
5 December 2019 - For the fourth year in a row, MAS has won the Consumer NZ People's Choice Award for four insurance categories – house, contents, car and life insurance.