Interest rates lower for longer
Your funds produced solid returns as the prospect of interest rates remaining lower for longer bolstered share markets around the world. The quarter began strongly as confidence grew that a vaccine for COVID-19 would be found this year, and as governments and central banks around the world announced further measures to help their economies offset the damage being done by COVID-19-related lockdowns.
Perhaps the most significant news was the announcement in August by the US Federal Reserve of a change in its inflation targeting strategy. Rather than targeting future inflation of around 2% p.a., the Federal Reserve will now target average inflation over the long term, taking into account the historic rate of inflation. Inflation in the US has been below 2% p.a. for several years, meaning the Federal Reserve is prepared to tolerate higher inflation in future, which in turn means it will be slower to raise interest rates.
This was great news for sharemarkets as it implies the US economy may grow faster than previously expected, thereby boosting future company profits. The change in policy by the Federal Reserve saw the major US sharemarket indices hit record highs in August. The changed outlook for the critical US economy also boosts prospects for other economies, which was reflected in strong performances by other sharemarkets in August.
The strong gains in August were given up a little in September, as investors began to fret about what might happen following the US election. Even if Donald Trump does not contest election results, there may not be a clear-cut result on Election Night because of changes in the way voters cast their ballots, which would mean a period of uncertainty.
In September, we also saw investors move out of market sectors that had done particularly well in previous quarters in favour of sectors that had lagged and therefore appeared to offer better value.
The chart below shows the performance of the funds for the July-September quarter.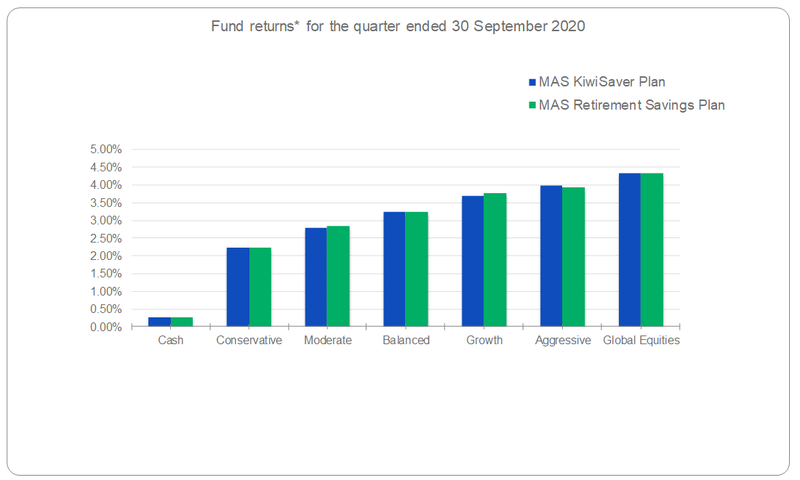 * Returns are after total annual fund charges and before tax.
The chart below shows our funds remain in positive territory for the year, despite the sharp drop in the March 2020 quarter as COVID-19 began to affect markets.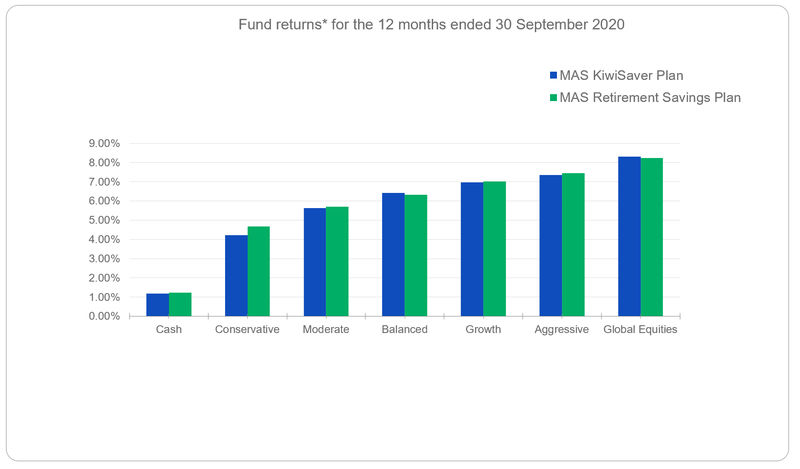 * Returns are after total annual fund charges and before tax.
Outlook
Our investment manager JBWere is more optimistic about the future performance of international share markets than they were in the previous quarter. Consequently, they have invested some of the cash they were holding back into international shares. You can learn more about JBWere's investment outlook here.
We can help
The big swings we've seen in markets this year emphasise the importance of having a sound investment strategy and sticking to it. To review your KiwiSaver and retirement savings goals, speak to a MAS adviser. Our advisers aren't paid any commissions and there is no charge for their advice.
To arrange an online or phone meeting, complete this form and we'll be in touch.
It's also important to make sure you're in the right fund for your risk appetite. You can use our online risk profiler questionnaire to see if you're in the right fund for your circumstances.
If, after reviewing your risk profile and speaking with an adviser, you do decide to change your investment strategy, you will need to complete an investment strategy change request form:
KiwiSaver Plan
Retirement Savings Plan

Once you are comfortable with your investment strategy, you can see weekly updates on fund unit prices and returns, on our website:
KiwiSaver
Retirement Savings Plan
---
Disclaimer
The Trustees of the Medical Assurance Society KiwiSaver Plan and the Medical Assurance Society Retirement Savings Plan are the issuer and manager of each of those Plans.
The Product Disclosure Statement for the Medical Assurance Society KiwiSaver Plan is available here.
The Product Disclosure Statement for the Medical Assurance Society Retirement Savings Plan is available here.
This article is of a general nature and is not a substitute for professional and individually tailored advice. Medical Assurance Society KiwiSaver and Retirement Savings Plan Trustees, Medical Assurance Society New Zealand Limited, JBWere (NZ) Pty Ltd and Bancorp Treasury Services Limited, their parent companies and associated entities do not guarantee the return of capital or the performance of investment funds. Returns indicated may bear no relation to future performance. The value of investments will fluctuate as the values of underlying assets rise or fall.
---
More news
9 October 2020 - MAS is proud to be a category sponsor of the Brendan Foot Supersite Round the Bays fun run/walk in Wellington this summer. The event will be held on 21 February 2021, and is one of the three largest events of its kind in New Zealand.
5 October 2020 - We want to reassure our Members that unless we have contacted you to discuss replacing these parts, you are not affected by this problem.