We provide the following insurance cover for your own house or your holiday home, offering a wide range of benefits to help ensure you never have to worry about the roof over your head. We also provide cover for rental properties and lifestyle properties.
We are proud of the strong reputation we have established for an empathetic and top quality claims service. Our insurance has wide-ranging benefits, meaning you'll never need to worry about whether you're covered or not.
Our policies are written in language that's easy to understand and we're always happy to answer any questions you may have about this important agreement between us.
You can choose one of the following cover options for your house:
Area Replacement
Where your house is damaged by a covered event, we'll pay the reasonable costs to repair or rebuild the damaged parts of the house to a condition substantially the same as it was in when it was new. If your property is a total loss, we'll pay the reasonable costs to rebuild your house to the same floor area recorded in the policy schedule.
Agreed Value
You will have the same rights as under our Area Replacement cover, except that our liability will be limited to no more than the sum insured recorded in the policy schedule. In limited circumstances we may require your house to be insured on this basis (for example, if it is a very expensive property or if it has unique features that are hard to value).
| Insured events | Area Replacement | Agreed Value |
| --- | --- | --- |
| Sudden, accidental damage |               |                  |
| Burglary |                |                    |
| Malicious damage |                  |                  |
| Fire and explosion |                 |                 |
| Weather |                |                |
| Legal liability |                 |                    |
| Automatic additional benefits | Sub-limit |
| --- | --- |
| Accidental death | $20,000 |
| Alternative accommodation | $50,000 |
| Emergency entry | $10,000 |
| Emergency evacuation | $50,000 |
| Glass breakage | No excess/NCB |
| Hidden gradual loss | $5,000 |
| Intentional fire or explosion by guests | As per policy limits |
| Landscaping | $5,000 |
| Locks and keys | As per policy limits |
| Natural disaster damage | As per policy schedule |
| New building work  | $20,000 |
| Protections costs | $10,000 |
| Tree removal | $2,000 |
| You choose your repairer | As per policy limits |
Important cover sub-limits
| Policy Item | Sub-limit |
| --- | --- |
| Legal liability | $10,000,000 |
| Retaining walls | $200,000 |
| Bodily injury | $1,000,000 |
Automatic additional benefits
Accidental death
If you are injured and, as a consequence, die as the result of a sudden accidental event, we will pay $20,000 to your estate.
Alternative accommodation
If your main residence is uninhabitable, we will pay up to $50,000 for the additional and reasonable costs for alternative accommodation while the property is being assessed and/or repaired. 
Emergency entry
If emergency services cause damage to your property on entry, we'll cover it up to $10,000.
Emergency evacuation
We'll allow you to claim under the Alternative accommodation benefit when you are denied access to your house due to safety concerns or an emergency.
Glass breakage
Claims solely for accidental breakage of glass in windows, doors or screens of your house will not have an excess applied and your No Claims Bonus will not be affected.
Hidden gradual loss
In certain circumstances we'll provide up to $5,000 for hidden rot, hidden mildew or hidden gradual deterioration caused by water leaking from an internal source.
Intentional fire or explosion by guests
We'll provide cover for damage caused by a fire or explosion intentionally caused by any tenant, guest of a tenant or your guest.
Landscaping
If we've accepted a claim, you'll also be entitled for up to $5,000 to replant or repair damaged lawns, flowers, trees, hedges or shrubs or to pay for other reasonable landscaping costs.
Locks and keys
We will cover the reasonable cost of replacing locks and keys (including electronic access cards and transponders and remote door openers) if they have been lost, damaged, stolen or duplicated. You will not have an excess applied and your No Claims Bonus will not be affected.
Natural disaster damage
Your premium includes a levy which is paid to the Earthquake Commission under EQCover.  EQCover provides cover for damage after a natural disaster , up to limits set by them.  We provide natural disaster cover for your property not covered by EQCover and for damage in excess of EQCover limits.
 New building work
If you're building a new structure we'll provide up to $20,000 to cover the new structure being built and any building materials that will be incorporated. 
Protection costs
We'll pay up to $10,000 for reasonable costs incurred to protect a Member's property from loss, or following a loss, to minimise damage and prevent further loss. We will also pay the reasonable costs incurred to replenish your fire fighting equipment after it has been used to protect your house. 
Tree removal
If we've accepted a claim, you'll also be entitled for up to $2,000 for the reasonable costs incurred for the removal of a fallen or partially fallen tree on your property. 
You choose your repairer
You can select your own repairer.  If you select a repairer that we approve, we will guarantee the quality of their repairs completed under the claim.
Measuring your home
For all house policies, it's important that you provide us with an accurate measurement of the total floor area of your house. Check out our House Insurance Application Guide and the Area Replacement Fact Sheet to help you get this right. They also highlight other features you may need to tell us about.
Calculating your premiums
Government levies
About a third of the cost of your premium is made up of GST and levies we collect on behalf of government agencies. 
We collect a levy for the Earthquake Commission (EQC), which helps EQC fund the cossts of recovering from major natural disasters. This levy was increased in July 2019, to cover increases in the amount of cover EQC provides for houses. 
We also collect a levy on behalf of Fire and Emergency New Zealand, which funds the costs of emergency services. 
Reinsurance costs
Just as you buy insurance from us, we buy our own insurance from global companies known as reinsurers. This helps us ensure we have enough funding to cover the costs of major disasters, while still being able to pay out on everyday claims. 
Traditionally, we've spread the cost of this reinsurance equally across all the house insurance policies we hold. In effect, the premiums paid by those in less risky parts of the country have subsidised the premiums for those in riskier areas. Natural disasters in the past ten years have seen the cost of this reinsurance go up and we need a fairer way to distribute these costs to our Members. 
After the Canterbury and Kaikōura earthquakes, insurers have more detailed and reliable data about seismic risk in New Zealand than ever before, and we can now differentiate between regions more fairly when it comes to setting insurance premiums. This pricing method is often referred to as "risk-based pricing".
In essence, risk-based pricing simply means we take greater account of the particular risks faced by houses in different regions around the country when it comes to setting premiums. 
It's the same principle we use when we set premiums for other forms of insurance. When you insure your car, for example, you'll pay more if it's an older car, or if it includes performance features.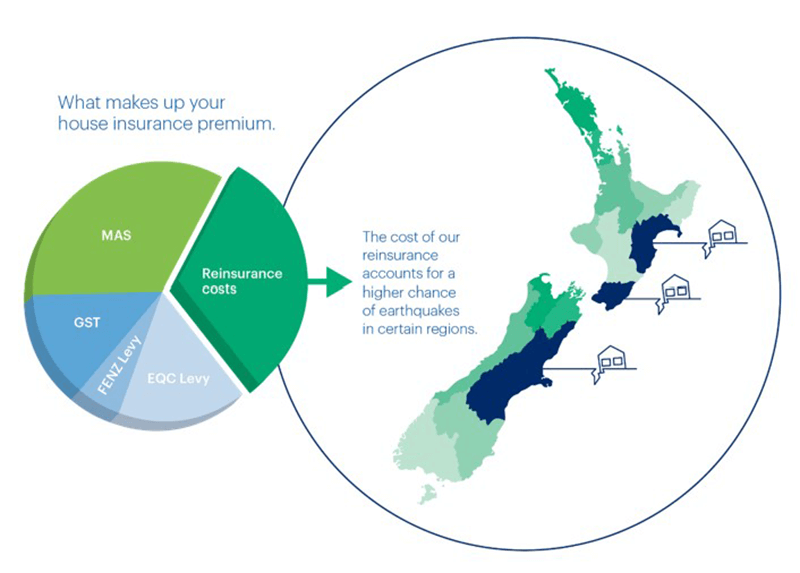 Why insure your house with MAS?
As a mutual, we work for you, our Members. We work hard to ensure that you are getting the best possible cover for a fair premium and excess. We bring you all the benefits you would expect and more including:
Easy to understand policies.
Top quality and empathetic claims service.
Insure your contents and your house and/or motor vehicle and you'll be eligible for our multi-product discount. Insure your motor vehicle, house and contents and you'll be eligible for our Goldshield discount.
Where an event results in a claim under this policy and another policy you hold with us, you only have to pay the total excess that applies under the policy with the highest total excess.
If you hold this policy for a continuous period of five years and do not make a claim (excluding glass claims), you will qualify for our Secured No Claims Bonus. Once you qualify, your maximum No Claims Bonus is protected for the life of the policy, regardless of the number of claims you make. This benefit does not apply to holiday homes.
Do you need other insurance?
As well as insuring your house and the contents inside it, have you thought about protecting the income that pays the mortgage? Would you or your family be able to pay the mortgage if you or a partner was unable to work for an extended period?
Life, Income and Disability Insurance helps you protect your house and your lifestyle if your personal circumstances were to change.
This webpage is intended as an information guide only and does not form part of the policy document or any contract with MAS. This webpage does not consider your specific financial situation, needs or goals. You can find out more about financial advice at MAS here. Normal underwriting criteria apply for all insurance products. Special conditions and/or excesses may apply to the situations that meets your specific needs.