MAS's commitment to provide easily understood, concise insurance policies as part of the outstanding service we offer our Members has been recognised at this year's Plain Language Awards.
MAS won best Plain Language Legal Document for our Income Security Policy document, best Plain Language Champion individual or team, and best Plain Language Sentence Transformation. We were also a finalist in the category of best Plain Language Turnaround for our Professional Life Plan policy document.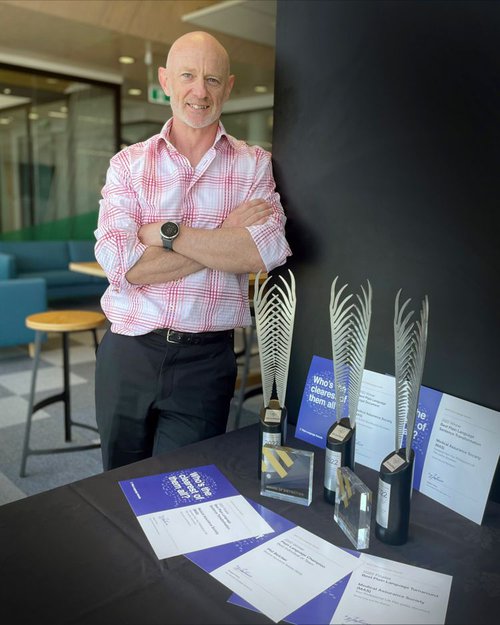 Plain Language Champion award recipient Phil Belcher, Product Manager Life & Disability Insurance, says that insurance comes with its fair share of complexity and technical jargon, and MAS was keen to take up the challenge of applying Plain Language principles to its documents and wider communications.
"We put our Members first. Making sure that our documents are super clear on what Members are covered for, and when they can make a claim is just the start of MAS's outstanding Member service. Plain Language is part of a culture change for MAS to strengthen the trust and confidence our Members have in us. Being recognised with these awards is a testament to how far we've come, and the hard work put in by many staff to support Plain Language across MAS."
The judges said that MAS's legal document on its income protection policy did a great job to help the reader understand a complex insurance product. "It has excellent structure, clear headings, and applies other techniques to help readers deal with the large amount of information. Short paragraphs and bullet lists break the information into manageable chunks and the language is clear and reader friendly. Well done!"
Phil says that playing a leadership role to transform MAS's life and disability insurance documents was time consuming but well worth the effort.
"I'm a firm believer in the value of Plain Language for our Members – there is no doubt that it has led to higher Member satisfaction. The documents we revised are now more easily understood and accessible for Members. Plain Language is about making strong connections with others using clear, effective communications."
The judges praised Phil for his significant and influential contribution to Plain Language at MAS. "He shows an admirable mindset, dedication, and perseverance for the ultimate goal – clear communication with the reader truly at the heart. He has clearly inspired others and strengthened MAS's relationships with customers and stakeholders."
Head of Brand and Partnerships Nicola Airey, who led the introduction of Plain Language transformation at MAS, says that the organisation is more determined than ever to sustain the momentum of this work.
"It's about working together as a team to evaluate not only the words but the design and layout of our documents to make the information more accessible. We will continue to offer training and support to enhance Plain Language skills and we'll keep working on improving more of our documents."
Nicola says that it was a particularly great year to win these awards with the Plain Language Act passed at parliament last month, which promotes the use of Plain English in official documents and websites.
MAS thanks the Award organisers, the WriteMark Plain English Awards Trust, which aims to improve government and business documents so that all New Zealanders can understand them.
---
More news
29 November 2022 - Opt-In Remediation. During a review of our policy processes, we have discovered an error affecting life and disability income policies that were renewed between 2009 and 2017.
2 December 2022 - MAS is supporting the 5.5km fun run or walk at the annual Brendan Foot Supersite Round the Bays event for a third year. MAS Members are eligible for discounted entry.