Fair Insurance Code Principles
The Fair Insurance Code is a set of principles that aim to improve the standard of practice and service that member companies provide to their customers. The Code describes the responsibilities that we have to our Members and the responsibilities that our Members have to us. It also provides information on complaints procedures and details about the administration of the Code. 
All insurance companies that belong to the Insurance Council (including MAS) must comply with the Fair Insurance Code. 
The Code includes the following key areas:
General responsibilities of MAS to the Member
General responsibilities of the Member to MAS
Outlines the responsibilities of each party when applying for or purchasing insurance
Provides examples of information that must be disclosed to MAS
Outlines the responsibilities of each party when making a claim, including what happens in disaster situations
States what happens if we breach the Code. 
If we fail to comply with the Fair Insurance Code, we can be reprimanded, fined or expelled from the ICNZ so it is important we are all familiar with the Code and our specific responsibilities and commitments to our Members. We view the Fair Insurance Code guidelines as a minimum only and pride ourselves on offering service levels above the standards noted in the Code.
Making a complaint
We are committed to high standards of customer service. If you are not satisfied with our service, a decision we have made, or our company policies please contact us and let us know. We have a formal complaints procedure to help resolve any problems that may arise. 
 If you make a complaint to us, we will:
Acknowledge we have received your complaint within five business days;
give you the name and contact details of the person handling your complaint;
ensure that an experienced person who has not handled your case fully investigates your complaint;
respond to your complaint within 10 business days of the date we have all the information we need to determine your complaint. Where further information, assessment or investigation is required, we will agree on reasonable timeframes with you. If we cannot agree on reasonable timeframes, you can contact our independent external dispute resolution scheme about those timeframes;
update you at least once every 20 business days, or another such interval as we may agree with you until your complaint is resolved. 
If we cannot resolve your complaint to your satisfaction through our internal dispute resolution process within two months, we will explain our reasons to you in writing and provide you with a 'letter of deadlock'. Depending upon the nature of the problem, you may then have access to our independent, external dispute resolution scheme, the Insurance and Financial Services Ombudsman Scheme which is available to help resolve disputes: ifso.org.nz.
If you feel your human rights have been breached you can contact the Human Rights Commission on 0800 496 877 or through its website: hrc.co.nz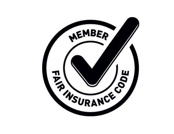 We are a member of the Insurance Council of NZ and adhere to the Fair Insurance Code, which provides you with the assurance that we have high standards of service to our customers.