The performance of financial markets during the quarter was very much in line with what our investment manager, JBWere (NZ) Pty Ltd, had forecast last quarter. Financial markets were volatile as investors' assessment of future inflation and therefore the risk of higher official cash rates changed frequently in response to new data.
Currently, markets believe the world economy to be in a "goldilocks" zone – not so strong as to see substantial increases in official cash rates any time soon, but not so weak as to risk lower company profits. This meant that most sharemarkets performed well, and our funds benefitted from holding more shares than usual.
The New Zealand sharemarket didn't perform as strongly. While our economy is relatively strong, having avoided the worst of the ravages of COVID-19, the local share market is highly concentrated with the top 10 companies by market capitalisation making up nearly 60% of the entire S&P/NZX50 Index. This means that the performance of the NZ sharemarket is highly influenced by the fortunes of a few large companies. A notable example of this is A2 Milk - once the NZ sharemarket's largest company by market capitalisation - which saw its share price fall 25% principally in response to delays in the reopening of the key Chinese market.
The fortunes of individual asset classes over the quarter are illustrated in the chart below. This shows returns for our KiwiSaver Balanced Fund in each asset class before fees* and tax. Returns for other MAS funds are very similar.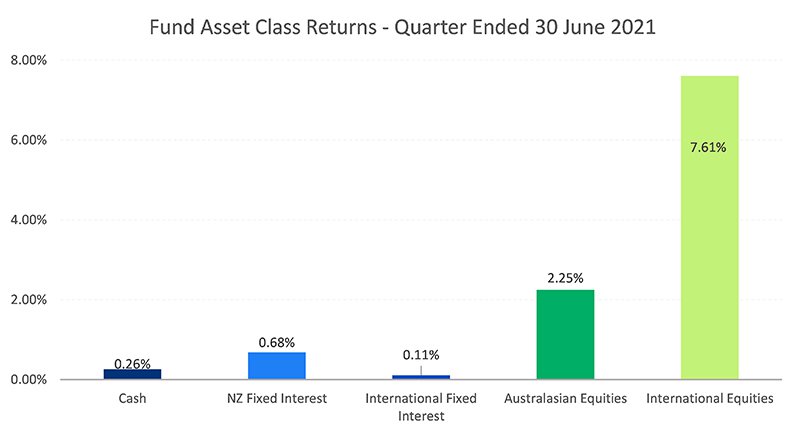 Note: the return for international fixed interest is after third party manager fees.
What this means for our funds
The strong returns in international equities is reflected in the overall performance of the funds. The chart below shows the significantly higher return for the Global Equities Fund (with 70% allocation to international equities) for the quarter compared with the Conservative Fund (only 14% allocation to international equities). The relative position of the performance of these funds was the same over the full year.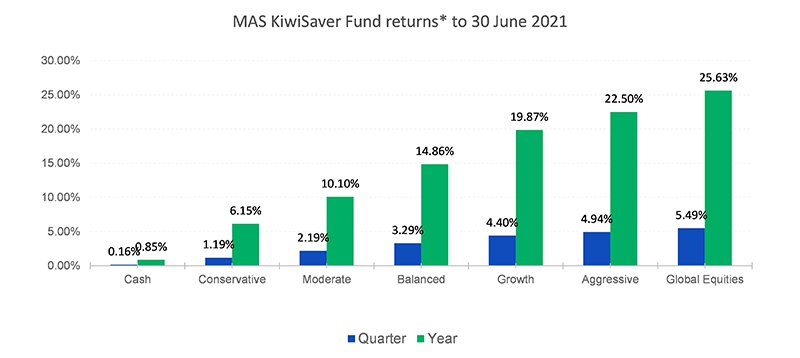 Note: Returns are after total annual charges and before tax.
Outlook
Over the past six months, the funds have had a higher-than-usual allocation to growth assets such as Australasian and international equities. This reflected JBWere's positive view on the near-term prospects of these asset classes, compared with more defensive asset classes such as fixed interest and cash. This strategy has served the funds extremely well.
The growth asset exposure of the funds is now at a broadly neutral level, reflecting an increase in the target mix of growth assets for several of the funds (find out more about these changes here). JBWere has a more balanced assessment of equity market risks over the coming month and consequently judge the current mix of growth and income assets as prudently managing risks after a strong run of equity market performance. You can learn more about JBWere's investment outlook here.
We can help
The big move in financial markets over the past year show it's important to have a sound investment strategy and to stick to it.
To help you formulate your own retirement investment strategy, arrange a free consultation with a MAS adviser. To book an online or phone meeting, complete this form and we'll be in touch.
It's also important to make sure you're in the right fund for your risk appetite. You can use our online risk profile questionnaire to see if you're in the right fund for your circumstances.
If you decide to change your fund after reviewing your risk profile or meeting an adviser, you will need to complete an investment strategy change request form: 
There is no fee for switching.
Once you are comfortable with your investment strategy, you can see weekly updates on fund unit prices and returns on our web site:
---
More news
30 June 2021 - From 30 June 2021, MAS will be the single point of contact for its Members when they need to lodge house or land claims following a natural disaster.
25 June 2021 - Previously, you could only join the Schemes if you met certain MAS eligibility criteria. From 23 June 2021, we have opened eligibility to join our Schemes to all New Zealanders who meet the broader Government eligibility requirements.