195 MAS Members and 45 MAS staff were joined by over 13,000 other participants in the 2021 Brendan Foot Supersite Round the Bays in Wellington, which was held on 21 February.
MAS sponsored the 6.5km Fun Run/Walk for the first time, which attracted 5,827 participants. MAS also supported Run and Become, a KiwiSport initiative that gives free entry, help with training, and transport to Round the Bays for 250 school pupils aged 8 to 12 from the Greater Wellington Region.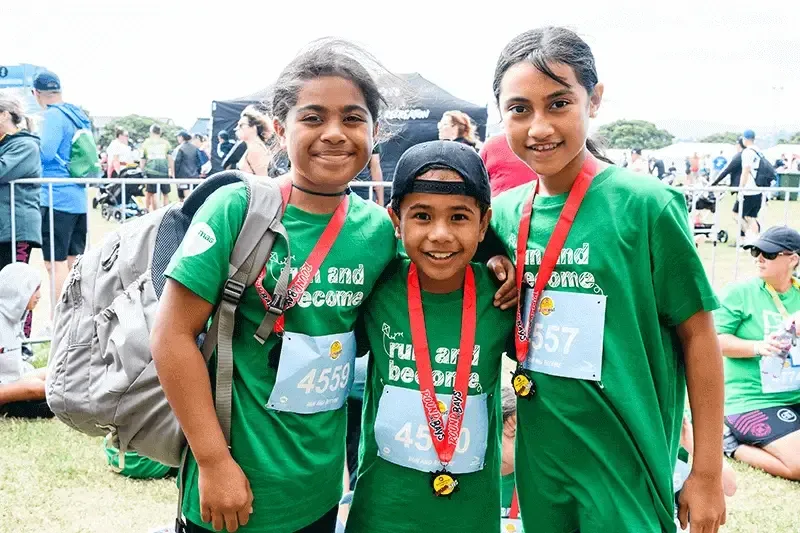 Marilyn and EJ Iona, and Tase Pule, from Lakeview School
Getting kids involved through Run and Become
Run and Become is all about encouraging kids to incorporate more physical movement into their day, as well as offering some of the participants help organising training and other activities for their classmates.  
Students from ten schools participated in Run and Become, including siblings Marilyn and EJ Iona from Lakeview School in Masterton.
"I had fun," says 11-year-old Marilyn. "I already knew how to run and I've gone to interschools before, but I don't know if I'm quick. I'm not sure why I run – I just do, and I feel good afterwards when I get to eat."
Eight-year-old EJ said "it was cool to be in the big crowd. I came third out of Lakeview and my legs aren't tired."
Every child was accompanied by a guardian during the entire 6.5km run/walk, and each was supplied with a bib, MAS t-shirt, and other essential materials before arriving at the start line.
Round the Bays for good causes
As part of Round the Bays's focus on sustainability, all entrants' bibs were made of recyclable material, and medals were made from bamboo and recycled metals.
In addition, a portion of each participant's entry fee went to tree planting on Mount Victoria. Thanks to this initiative, almost 13,500 trees were sponsored, to help young native trees survive the first 5-10 years after planting.
The event also raised $23,000 for the Mental Health Foundation of New Zealand, through a combination of participants being sponsored by their friends and family, and merchandise and food sales at the event.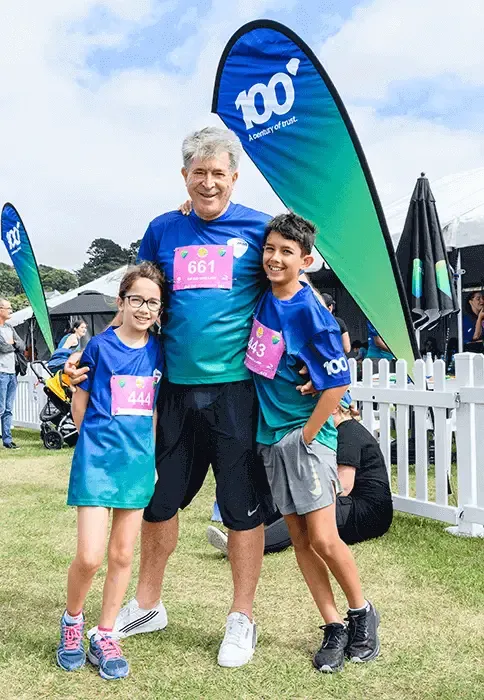 MAS CEO Martin Stokes with his children Raf and Conrad
MAS team and Members among the entrants
CEO Martin Stokes introduced the race at the starting line and was also joined by whānau as he walked the 6.5km route with daughter Raf and son Conrad.
"At the start there were lots of people running and it was hard to see but then it cleared out and it just got fun going past the kilometre marks," Conrad says.
"Next year I'll definitely do it again. I like running a lot, it's a passion. I did a bit of walking and a bit of running, my sister was in front of us so sometimes I'd try to catch up. But then she was so far in front of us that I decided not to, so I was just walking with dad."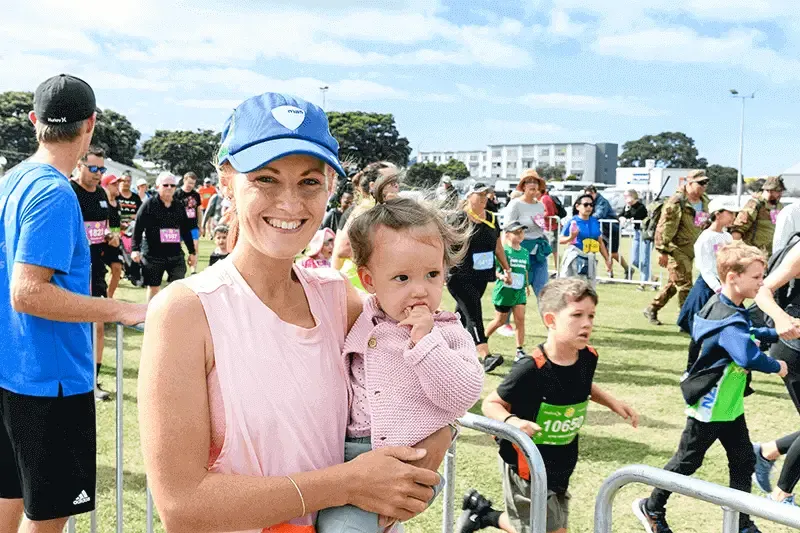 MAS Member Marie Carkeek and her daughter
Meanwhile, early childhood teacher and MAS Member Marie Carkeek completed her first half marathon on the day.
"My sister and I did it together. It was definitely a mental battle at times, but it was really fun. It took a lot of training, a lot of running when I didn't want to, a lot of night running when the kids were in bed. I've been running for a long time – it's definitely my sanity, my therapy, where I go to unwind and get a bit of time out."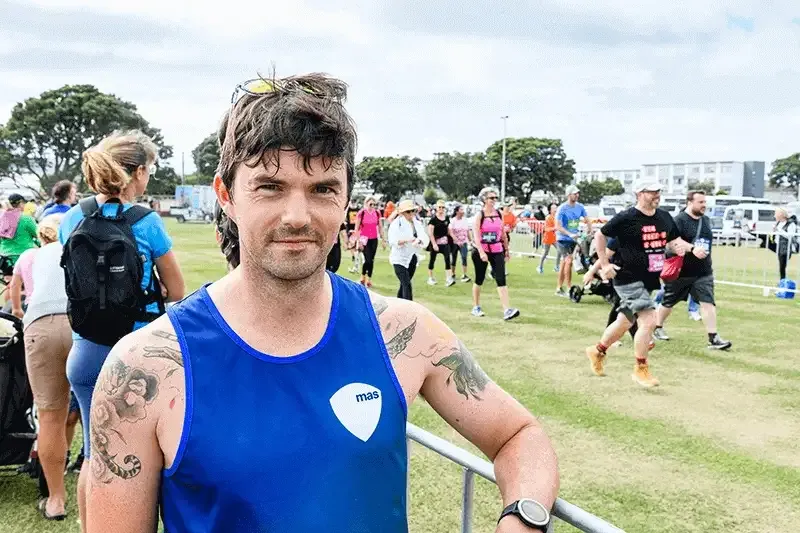 MAS Senior Internal Assurance Adviser, Axel Tie
After a structured training programme, MAS Senior Internal Assurance Adviser Axel Tie placed second in his age group and was the 9th male and 10th competitor overall to finish the 10km run.
"I've done a few races and this was the third Round the Bays for me. I went faster than I thought I was going to, so that's always nice. These kinds of things are great – when there's a few people to run against and they shut the roads, it allows you to take it a bit more seriously. I'm definitely motivated by the competition side of things."
Axel's MAS colleague Dean Cash placed second in his age group for the 10km run too, as well as being the 6th male and 6th overall finisher. Silver medals were a theme of the day for our staff, with Team MAS placing second overall for 10km teams, and 16th out of 493 teams in the half marathon. 
---
More news
11 February 2021 - This year's New Year Honours saw a number of MAS Members recognised for work spanning disciplines including veterinary science, women's health, sustainability and public health.
28 January 2021 - Whether you believe in resolutions or not, the start of a new year is a good time to review your finances. We've put together some tips to help you make the most of your savings as we kick off 2021.