Global share markets shrug off challenges from COVID-19 and inflation
Returns for MAS funds this quarter improved on results from the previous quarter as global share markets, underpinned by generally strong company earnings and still low short-term interest rates, largely shrugged off the emergence of the Omicron variant of COVID-19 and multi-decade highs of inflation.
Early in the quarter, many world share markets hit record highs, boosted by the reopening of a host of countries from their COVID-19 related lockdowns and the growing likelihood of the huge US infrastructure spending plan being agreed to. 
This optimism was then dampened by the emergence of the Omicron variant of COVID-19, which saw share markets retreat from their highs as investors worried that economy-damaging lockdowns might be reinstated. The falls were generally moderate as initial reports suggested that Omicron, while highly transmissible, was not as potentially lethal as the Delta variant and therefore may not be as disruptive to economies. 
Global share markets also came under pressure from a change in tack by many major central banks. Previously their collective view was that the current sharp spike in inflation was transitory and therefore no change in monetary policy was required. Now, many central banks assess there is a risk of sustained inflation, and therefore are either raising their official cash rates or signalling that they will do so soon. 
The change in the stace of many central banks was not wholly unexpected by markets and the pace of potential official cash rate hikes is modest. Consequently, given the strong earnings of many companies as economies reopen, the news was more of a headwind than a signal of a complete reversal in fortunes. 
On a global basis, New Zealand continues to be an outlier. Our economy has been less damaged by COVID-19 than others and consequently the Reserve Bank has for the past several months been reversing the stimulus it introduced in early 2020. These moves are well in advance of other central banks. Consequently, interest rates here have risen much faster than elsewhere and as a result, our share market, which is particularly sensitive to interest rates, has struggled. The differing fortunes of various asset classes is illustrated in the chart below. This shows returns for asset classes in the MAS KiwiSaver Scheme Balanced Fund. Returns for other MAS funds are very similar.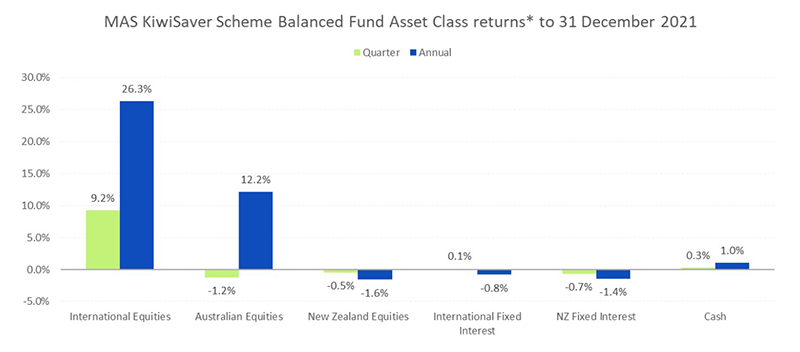 Notes*
The return for International Fixed Interest is after third party manager fees. Otherwise returns are shown before fees and tax.
For illustrative purposes the Australasian equities asset class has been separated into Australian equities and New Zealand equities. 
Key points to note in the chart above
The relatively concentrated nature of the New Zealand share market and its sensitivity to interest rates has seen it significantly underperform international share markets over both the quarter and the year. This is a major reversal from previous years when interest rates were falling.
The likelihood of higher official cash rates, notably in New Zealand, is leading to higher long term interest rates. Consequently, because bond values typically move in the opposite direction to interest rates, returns from fixed interest are low and even negative in the case of New Zealand over both the quarter and the year. 
What this means for our funds
The stronger performance of growth assets (such as international shares and Australian shares) compared with income assets (such as fixed interest and cash) was reflected in the relative performance of the funds.
The chart below shows returns to 31 December 2021 for all of the funds in the MAS KiwiSaver Scheme. Compare the higher return over the quarter for the Global Equities Fund (with a target asset allocation of 100% invested in growth assets) with the Conservative Fund (with a target asset allocation of 20% in growth assets): the relative position of the performance of these funds for the quarter was the same over the full year.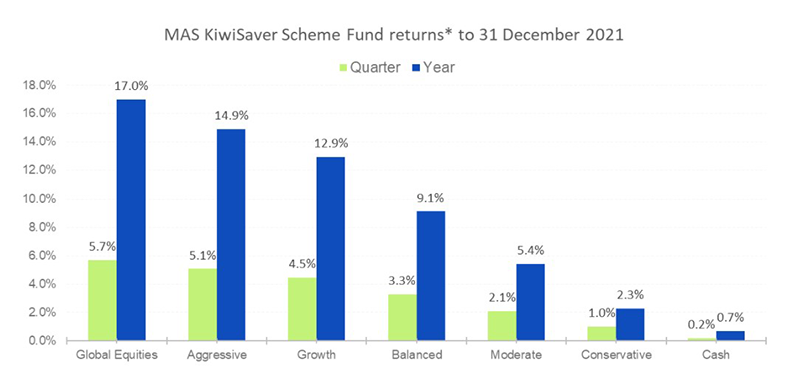 Notes*
Returns are after total annual charges and before tax.
Performance for MAS Retirement Savings Scheme funds are very similar to the equivalent MAS KiwiSaver Scheme funds. 
Actively seeking healthier returns
The MAS funds are invested in accordance with the MAS Responsible Investment Policy. We seek to invest both for a healthy planet and its people, and actively manage investments targeting the optimal mix of risk and return for investors. The recent success of this active management is illustrated in the chart below. This compares the annual return of each of the MAS KiwiSaver Scheme funds against the relevant market index i.e. the returns the funds would likely have achieved if they had followed an index/passive investment strategy with no fees charged.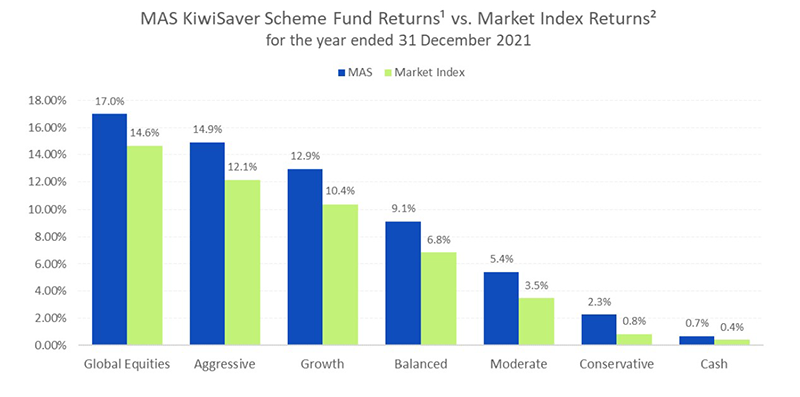 Note 1
Returns after fees, before tax.
Note 2
Returns after before fees and tax.
In all cases, the fund returns are significantly higher than the relevant market index, illustrating the benefit of MAS' active investment strategy. Here you can find more information on the market indices for the funds in the MAS KiwiSaver Scheme in the Statement of Investment Policy and Objectives (SIPO). 
Outlook
The investment manager for the funds, JBWere NZ Pty Ltd, has a positive view on the global growth backdrop and therefore sees equity markets delivering further gains over the long term. However, in the short term there is a risk that rising inflation may adversely impact on equity markets. Consequently, they believe after a run of strong equity market performance, having a mix of growth and income assets in line with each fund's long-term target mix is the best way of managing risks in the coming months. You can find out more on JBWere's outlook here.
We can help
It's important to have a sound investment strategy and to stick to it. To help you formulate your own retirement investment strategy, arrange a free consultation with a MAS Adviser. To book an online or phone meeting, complete this form and we'll be in touch.
It's also important to make sure you're in the right fund for your risk appetite. You can use our online risk profile questionnaire to help see if you're in the right fund for your circumstances. 
If you decide to change your fund after reviewing your risk profile or meeting an adviser, you will need to complete an investment strategy change request form:
There is no fee for switching. 
Once you are comfortable with your investment strategy, you can see weekly updates on fund unit prices and returns on our website:
---
More news
23 December 2021 - For a second year MAS is sponsoring Run and Become, a fun training programme to get hundreds of Wellington kids and whānau ready to participate in Brendan Foot Supersite Round the Bays in February.
22 December 2021 - Social enterprise, Gap Filler, was the winner of the MAS-sponsored Social Impactor award at the recent Sustainable Business Awards, in recognition of their innovative Good Spot parking programme.