It is important to understand the risks associated with investing as there is a chance that you will receive less from your investments than you expect. There is a direct relationship between risk and return, meaning that there are greater risks associated with potentially higher returns and vice versa. For example, the Aggressive Fund can produce very high returns - however it comes with the very real risk that you might lose money over a shorter period of time.
MAS KiwiSaver Plan & RSP Risk Profiler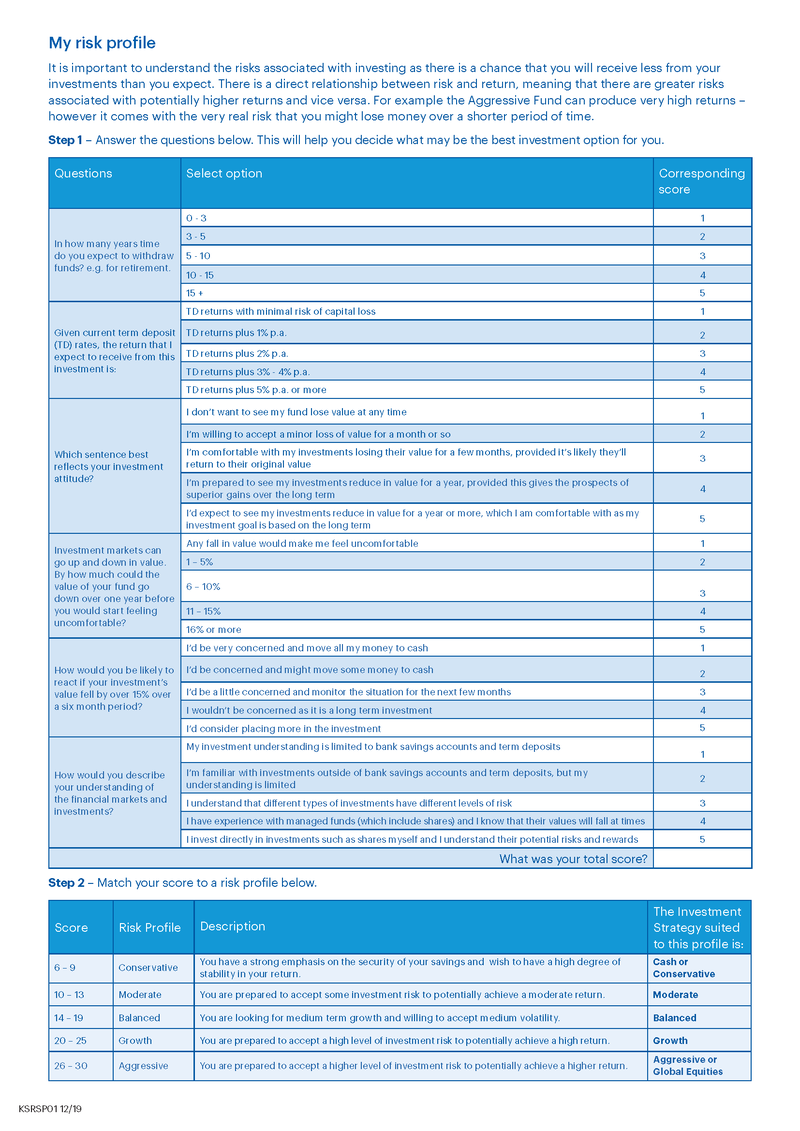 Your final choice may be different from what is recommended for you. Things to consider in making your final choice:
Time before you require access to your investment. The sooner you need access to it, the more conservative you should be.
Other investments. If you have other investments, you may be more comfortable being more or less aggressive depending on the risk profile of your other investments. 
Disclaimer
This questionnaire is a guide to help you determine your risk profile and the MAS investment fund that best suits your risk appetite. It provides a recommendation that is of a general nature and does not consider your personal financial situation and goals. It is not a personalised service as defined under the Financial Advisers Act 2008. Should you require a personalised financial adviser service, we recommend that you contact your MAS adviser for assistance. A copy of the MAS QFE disclosure statement is available, or upon request and free of charge from your MAS adviser.
To the extent permitted by law, MAS denies liability and responsibility for any direct or indirect loss that may result from any act or omission by any person in relation to, or in reliance on, the information supplied in this questionnaire. MAS accepts no responsibility for any direct or indirect loss caused through the investment mix you choose, or for the performance of your investments.
The Trustees of the Medical Assurance Society KiwiSaver/Retirement Savings Plans (the Plans) are the issuer and manager of the Plans. Copies of the Product Disclosure Statements (PDS) are available here and here. If you would like to receive a hard copy of the PDS, or for personal, tailored advice, you can talk to a MAS adviser by phoning 0800 800 627 or emailing info@mas.co.nz.