Lessons from Lockdown: Flying in to help the fight against COVID-19
By MAS Team | 28 April 2020
When Bulls GP and flying doctor Dave Baldwin got the call that his help was needed in the fight against COVID-19, he flew at the chance. 
It was early in the lockdown, and regional testing for COVID-19 wasn't yet available in Manawatū. When Air New Zealand halted its regional flights, Dave stepped in to help.
Using his small Cessna plane, he flew an urgent shipment of about 120 swabs from Palmerston North to an airfield just south of Rangiora in Canterbury. From there the swabs were whisked to a lab in Christchurch to be tested for COVID-19.
"It was a very good experience because it meant that I could help, in an unusual way. It also meant I was able to be part of the team, and that's all I want."
Dave has a long history of working as a flying doctor, having spent three years as a doctor in the Royal New Zealand Air Force before buying the general practice in Bulls with colleague and friend, Ken Young. Dave simultaneously set up the Bulls Flying Doctor Service and for the past few decades, has been flying medical supplies and providing treatment in remote communities across the country. 
Combining medicine and flying was the perfect combination for him. 
"By nature, I'm very much a free spirit. When I got into medical school it was a big feat for me as I wasn't the brainiest on the block and for eight years it was like being in Folsom Prison. I studied hard but I wanted to be in the ranges once I got out and it was a question of how to develop my career and express myself creatively," he says.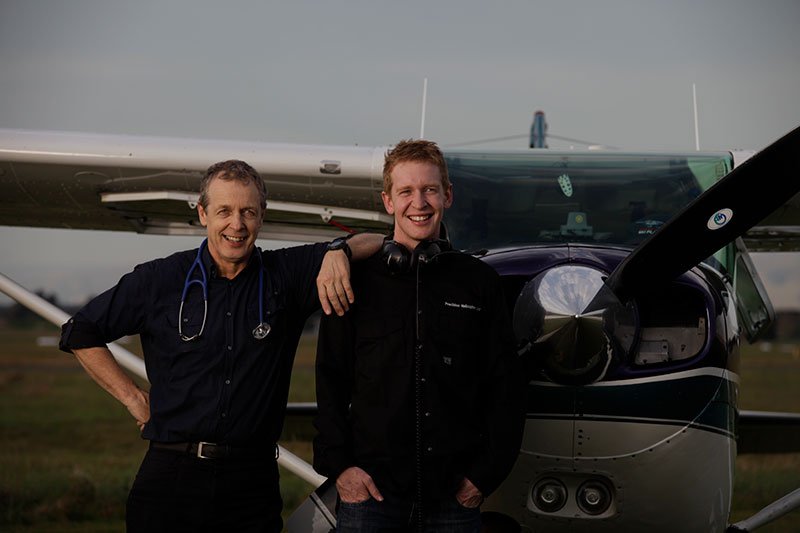 Dave Baldwin set up the Bulls Flying Doctor Service with his son Marc, who passed away in 2012.
An important mission
Dave says before regional laboratories were established, the country was scrambling to provide the government with good statistics by ramping up testing for COVID-19. The test samples – both throat swabs and nasopharyngeal – needed to be processes in the lab as quickly as possible, so being unable to transport them on commercial airlines because a huge problem for the Mid Central District Health Board. 
The morning after Air New Zealand announced it was stopping regional flights, Dave was called and asked to urgently get the swabs to Christchurch the following day. With little time to delay, he flew into action, organising clearance from traffic control, submitting his flight plan and preparing his Cessna for the flight.
"On Saturday at 12pm the big blue box of swabs was put in the plane and I was gone-burger."

Since then testing has been set up in Manawatū, eliminating the need for further trips, but Dave would have gladly continued to help had he been needed.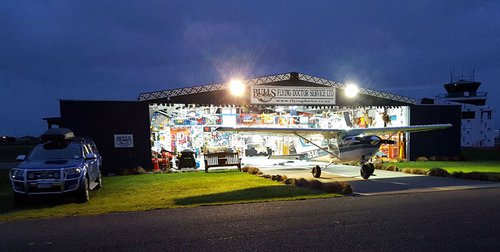 Changing life
Dave likes to keep busy, usually working seven days a week, 16 hours a day, but the pandemic and lockdown has forced him to put the brakes on. 
Along with the general practice and flying doctor service, Dave is also an author and champion of men's health.
"It's my life's journey, it's what I love to do. I want to drop and pass to the next dimension while I'm working.
"But [COVID-19] has totally changed things. In 35 years of medicine I never believed I'd be involved in a pandemic."
As an experienced GP, he has shifted to video and phone consultations, and continues to be focused on patient care. But with the flying doctor service closed for the duration of the lockdown, he says it has been a chance to catch up and have a breather. 
One of his greatest concerns is the mental health and wellbeing of his patients and small business owners across the country. 


"I'm worried about my self-employed patients and the stress, which is so bad when you're a small business and you rely on cash flow. I'm worried there might be a spike in suicide, and having been in business and almost been broke myself, I know how stressful that can be," he says.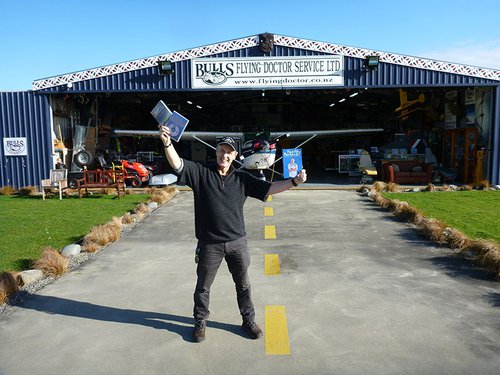 We want to hear about what you've been doing to help those around you during the pandemic. Have you, or anyone you know, done any random acts of kindness over the past few weeks? If you'd like to share your story, email us at onmas@mas.co.nz and tell us how you're living and working under lockdown. 
You might also like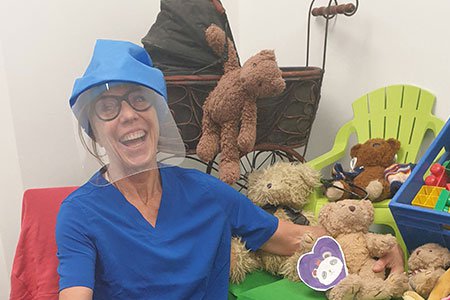 Lessons from Lockdown: Equipping frontline soldiers and maintaining care
22 April 2020
MAS is talking to Members about how COVID-19 has changed their work/life balance. First up is Christine Coulter from Team Medical in Paraparaumu.