Staying on top of your chosen MAS KiwiSaver Plan or MAS Retirement Savings Plan is important. Use the information on this page to help you manage your investment funds.
Receive your account balance by SMS text
If you have a NZ mobile phone number, you can choose to receive your chosen MAS KiwiSaver Plan and/or MAS Retirement Savings Plan account balance(s) at the end of each month by SMS text. If you would like to join the service, simply text INVEST to 3118. One business day after you have registered you can also text BAL to 3118 to get your balance(s) on demand. To ensure your privacy texts you receive will not include any personal details. 
You can opt out of the service at any time by texting STOP BAL to 3118. 
---
FAQs
When will I receive my monthly text?
You will usually receive a text on the fourth business day of each month (generally between 10am and 11am). This will give your account balance as at the last business day of the previous month. 
How current is the balance reported?
The text will include the date it is valid for. This may differ from what is reported in the Member section of the MAS website or the investor portal.
How many Members can be associated with a mobile phone number?
A single mobile phone number can be associated with multiple Members – if that mobile phone number matches our records for each Member. A separate registration needs to occur for each Member and a separate text will be sent for each registered Member. 
---
The terms and conditions of the service can be found here. 
If you wish to change the mobile phone number that we send the SMS text to, email us or call 0800 800 627. Changes will usually take effect within 24 hours. 
Prescribed Investor Rates (PIR)
New to the Medical Assurance Society(MAS) KiwiSaver Plan or MAS Retirement Savings Plan? This is what you need to know about tax.
The Plans are each a portfolio investment entity (PIE). This means that it's a type of investment entity that pays tax at each investor's tax rate (PIR) and is subject to special tax rules. 
Your PIR is the rate used to calculate how much tax we will pay on your taxable investment income in each of the Plans. 
If you don't select the PIR you wish us to record for you, we will automatically assign you the highest rate of 28%. To find out if you qualify for a lower rate and therefore will pay less tax, refer to the diagram below.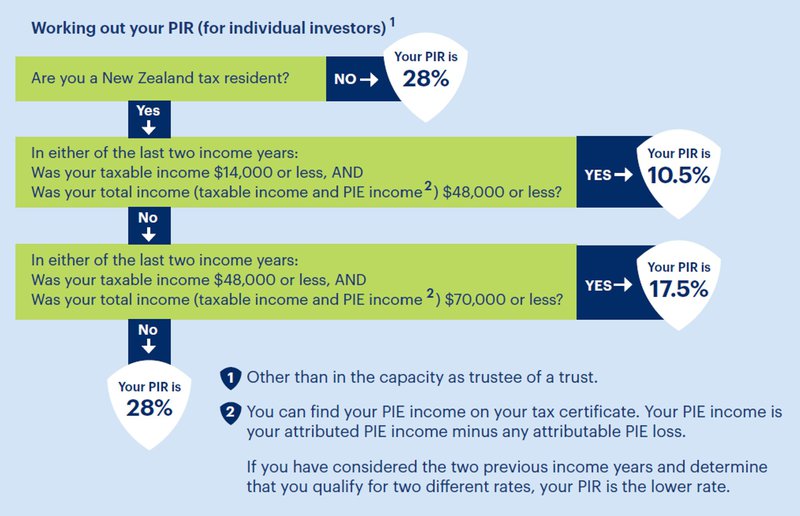 If you think you should be on a lower PIR, please let us know by emailing us. 
Around the end of May each year we will send you a tax certificate. You should check that the tax rate we have recorded for you is correct to ensure you pay the right amount of tax on your investment. 
Manage your MAS investments online
You can check your balance, transactions and manage your personal details via the MAS Investor Portal. You can access this by clicking here.
If you have not yet registered your account at our Administration Manager (Link Market Services) you can follow the instructions below.
Click here to open the MAS Investor Portal
Click on 'Register a New Account'
Enter your Member number (this can be found in emails we have sent you)
Enter your date of birth. If you cannot see this field, try using a different browser
Tick 'Accept terms and conditions'
Hit 'Continue registration'
Enter the email which you wish to login with in the future
Enter your choice of password. This must be at least 8 characters and include upper and lower case letters, at least one number and at least one symbol (but not ! or ?)
Wait for the confirmation email
Click on the registration link to complete your registration
If you have any issues please contact us on 0800 627 738, or email masinvest@linkmarketservices.com.
View multiple investment accounts at once
To link another account to yours in the MAS investor portal call us on 0800 627 738 or send an email to masinvest@linkmarketservices.com with the account you wish to have linked and the account number you wish to link it to.
Please note that it may be necessary to get the permission of the other Member whose account you wish to link to. We will contact them directly to get this and will then send you a confirmation email when the link is complete.
Government contribution
One of the great benefits of KiwiSaver is you're rewarded for saving! Remember that you have until 30 June to ensure you get your maximum entitlement from the Government. The Government contribution for the year ending 30 June 2021 is 50c for every $1 a member contributes to KiwiSaver. You will need to have contributed at least $1,042.86 to be eligible for the maximum Government contribution of $521.43.
To be eligible for the maximum of $521.43, you need to:
be aged 18 or over.
be aged under 65, unless you have been in KiwiSaver less than 5 years and first joined on or before 30 June 2019.
have personal contributions of at least $1,042.86 during the year – employer's contributions and Inland Revenue interest don't count.
have been in KiwiSaver the full year to 30 June 2021.
have been a resident in New Zealand the full year to 30 June 2021. 
You're also eligible for a partial payment – generally $10 per week – if you meet any of the eligibility criteria for part of the year. For example, if you contribute $200 you would be eligible for a Government contribution of $100.
Making contributions
If you want to top up your account to maximise your Government contribution, you can make contributions directly to your chosen MAS KiwiSaver Plan account.
You can do this by making a direct credit (through internet or phone banking) to account:
06-0541-0253131-00.
Please include your Member number, initials and surname and 'MAS KiwiSaver' as reference details with your payment.
Once you've paid in at least $1,042.86 (or a pro-rata amount if not eligible for the full entitlement), there's nothing more to do – we'll claim your entitlement from Inland Revenue on your behalf.