thirteen: city mission street appeal
By MAS Team | 13 December 2019
Who are you and what do you do in your day-to-day job?
I'm Anahera Brown and I'm the Direct Marketing Manager at MAS.
How did you use your 'Here for Good' day?
Today, Allie (who is the Marketing Projects and Support) and I volunteered with others from MAS to do the street appeal for The Wellington City Mission. We worked in shifts from 7 am until 5 pm along Lambton Quay.
Why did you choose them?
The Wellington City Mission gives so much to my community it felt right to be able to give something back to them. Especially because it's the Christmas season and their resources and staff are always so stretched helping provide families with transitional housing, food parcels, budget advice, and Christmas gifts and meals. It was great to be able to do this with so many other people from MAS as well.
What did you do?
We spent a couple of hours collecting through a street appeal outside Farmers on Lambton Quay. People are so generous. Whether it's spare change or donating by eftpos (yes, we even had an eftpos machine), the fact that people will stop and give what they can to help others, is really lovely to see.
What did you enjoy most?
There was one woman who stopped and talked to us a few times. She donates a few months a year of her own time to doing street appeals and sign-ups for other charities. She was just walking around and checking on the street collectors to make sure we were all doing o.k because she knew most of us wouldn't be used to standing in one spot for very long. There was also a workgroup doing an 'Amazing Race' type Christmas event. They were all dressed up and wanted to take a video of them donating to complete one of their tasks. They were pretty fun.
What did you learn from the experience?
I learnt that every little bit of time and effort you can invest to help or benefit others isn't wasted. No matter how little or how much you or anyone else does. It matters. I also learnt that 'people watching' is pretty fun and Wellingtonians have a pretty cool sense of style.
How can I help?
There are lots of ways to help The Wellington City Mission. You can donate money either at a street appeal or online. Or you can donate your time by volunteering at their drop-in centre and helping prepare, serve and clean-up. Or volunteer at the Foodbank sorting all the donations. You can volunteer as an individual or organise a one-off team volunteering activity.
Tag your heroes and get in the draw to win!
Comment on this Facebook post (or on any other of our advent calendar posts) and like our Facebook page before 24 December, and be in to win a $500 prezzie card or one of five $100 prezzie cards or one of five Bum Bag Survival Kits!

We'd love to hear your stories about wonderful organisations, amazing people, and initiatives in your community. Tag them in the comments and tell us what makes them special.

This December we want to celebrate all those generous and kind-hearted people out there who contribute to the greater good, give their time and help others. Here at MAS, each staff member is given one day per year to give back to community. They pitch in for a wide variety of organisations and causes and we'll share their stories as our #masforgood advent calendar.
You might also like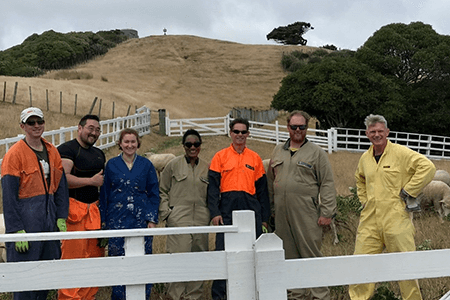 MAS for Good – A day out on Matiu/Somes Island
19 February 2020
Here at MAS, each staff member volunteers one full day per year and they pitch in for a wide variety of organisations and causes. Here is how the MAS Risk and Compliance Team spent their day doing good.
MAS Foundation: Private money for public good
13 January 2020
Philanthropic organisations have enormous potential to make a difference if they have a clear purpose and a sound strategy. MAS has turned to one of New Zealand's leading philanthropic consultants to get the MAS Foundation off to the best start.
one: a shoebox christmas
1 December 2019
1/12/2019: Shoebox Christmas delivers Christmas presents, contained within a shoebox, to kids who might otherwise go without on Christmas Day. Read all about Tracey's 'Here for Good' experience here.